Earlier this year I played a long game with a bunch of UK .grf files, including
Bob's Random British Vehicles
- which is a great set, but I found myself bemoaning the long period between the introduction of the Mammoth Major 8 Mk V in the late 1950s and the Leyland DAF 95XF some time around 1990.
This naturally set me to thinking about a small vehicle set to fill in that perceived gap and sprinkle a few worthy upgrade options around the 1960s and 1970s - and why let a lack of artistic talent get in the way of having a go?
So, I hereby present an early alpha version of
Timberwolf's UK Road Vehicles
- nine trucks from the history of our haulage industry: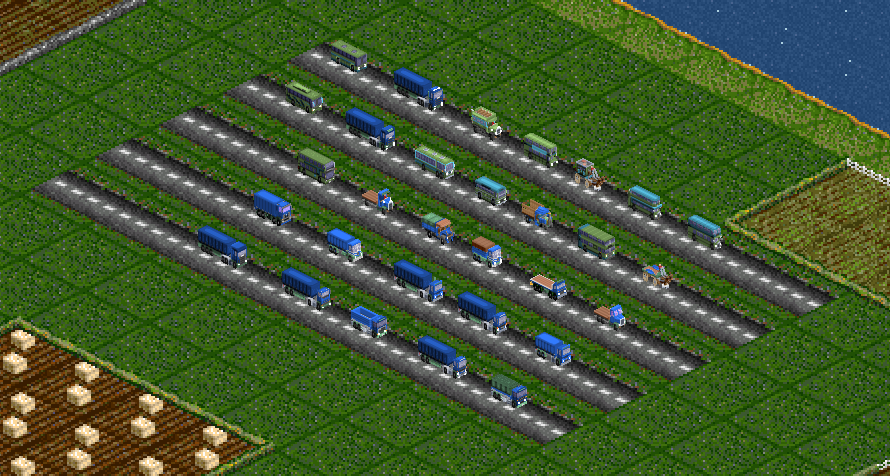 Fancy a closer look?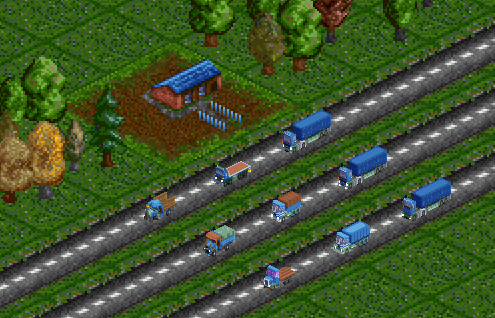 All of the trucks support 2x zoom, for those of us playing on high resolution screens or small laptops. There are vaguely sensible refits for the default cargoes...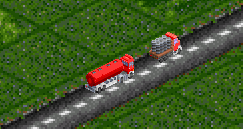 ... and a variety of power options!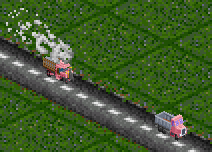 Plans for the immediate future:
Extend refit graphics to support FIRS cargo types
Add more trucks (on the immediate list are Volvo F86, Guy Big J, Scania 3 and 4 series, and some sort of horse-drawn wagon for the early years)
Gameplay balancing and better vehicle statistics
Fix the inevitable bugs I've failed to spot
Maybe, just maybe get together a version that's worth putting on BaNaNaS and the graphics releases forum
As a small set which currently includes no buses, I recommend using
Bob's British Buses
and of course
Bob's Random British Vehicles
to round out the numbers. (There's a parameter to disable my version of the Thornycroft J if you'd like to use this set and Bob's at the same time).
The vehicle statistics are currently a blend between reality, gameplay balance, and trying to make each new truck an upgrade in some way. So cargo capacities and speeds may not perfectly match the real world, although sometimes this is purely due to a lack of decent references. If anyone happens to have links to reviews, brochures or other material giving speed, power and weight I'd love to see them - this information is really hard to find for some of the vehicles!
(There is one concession to reality, which is the ability to make all vehicles built after 1991 have a 56mph speed limiter fitted. You can turn this on or off by parameter. Also note that just like the real world, some of the older trucks won't be able to get anywhere near their top speed once you've got a heavy load of coal or iron ore on board!)
Suggestions for trucks are also welcome - preferably ones that were common in the UK (or interesting/notable things built by a UK manufacturer) that aren't already covered by another vehicle set, where there's a reasonable amount of reference material available. I don't want to make any promises as this set is only a little thing I've been messing with on and off in my spare time for the last few months, but if I see something that piques my interest I might have a crack at drawing it.
Have fun!