I have merged in a single train the class 444 and class 448. They was almost the same train, with
different gears
(448 runs faster but It has less tractive effort). The cargo subtype menu allows it.
This is not the only modification. I'm adding more modifications, for example, Talgo trains I and II has been moved to Iberian gauge tracks, and I will enable the Talgo III for Iberian gauge rails and UIC gauge tracks, and I have fixed the mess of code of Talgo trains in 252 locomotive in iberian gauge tracks. Other change is that I have modified the crocodile locomotive. Now It has three parts instead of two. I'm recoding the 440 EMU, because It was too complex and It was a mess of Action 2 code, and I have added a nice feature: the train now looks like real 440 trains. When the train "turns", the pantographs and lights change their position without reversing the train. I will publish a screenshot soon.
The 1.28 taster wont be compatible with previous tasters.
Some help request:
My idea is to replace the ID used by 448 train with the 433 train, called "penguin". This train was built in 1956 and 1957 and runs at 100kp/h. It has two parts only.
The problem is that I am very bad drawing 8 bpp trains. There are some helpful photos if someone wants to help me:
http://www.wefer.com/w5/renfe/k433.htm
http://www.jorges.arrakis.es/materialre ... ut433.html
http://fototrenes.tranvia.org/433.html
This EMU has these pantographs in one part:
http://fototrenes.tranvia.org/433/433574b.jpg
The other part is the same, but without pantographs. It could be drawn as a 8/8 length wagons.
Other interesting train to add is the TMD: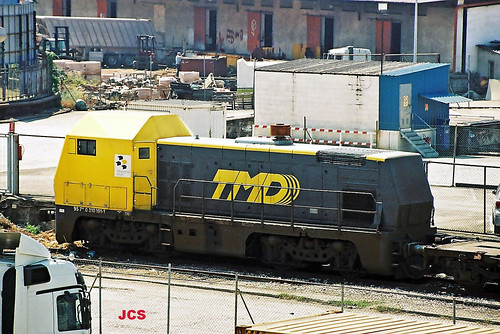 http://www.flickr.com/photos/serie103/3375751492/
http://fototrenes.tranvia.org/310/310104.jpg
http://fototrenes.tranvia.org/310/310102.jpg
http://www.flickr.com/photos/26628391@N04/3090182878
It's a freight DMU, It has two locomotives and some platform wagons between them. This train could work for short distance freight lines, allowing faster loading times.
Maybe It could be a smaller locomotive, maybe a 6/8 of length. It would be coded as a dual headed train and I will allow only platform wagons.