Brisbane Pack.
Brisbane is the awesome city of my residence, therefore I wish to make for locomotion it's vehicles and public transport infrastructure.
I hope to include in this pack:
Buses.
This is what I have started making models for.
basically if it's under
here
in "current buses", I want to make it. The most common type of buses in Brisbane, and the most modern all share the Volgren CR228L Body, so unless you get close, I can't tell the difference. this is why I have chosen this as the first model to produce, because I can use the same sprites for 4 or so different buses, all with different charicteristics. under the wise words of Plastikman, I have near finished the model in sketchup, and it needs to be skinned, and rendered.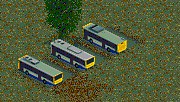 Ferries.
yeah eventually, aswell as the very distinct wharves all along the river.
all of the wharves look like the same, a floating pontoon with an angle-adjustable bridge.
Trains.
yeah sometime in the near future if I can make them myself or find models for them.
anyway. if anyone can point me at stuff for converting into Lomo...
also can you convert from Trainz to loco?
regards, noof.
It's my birthday, so I have a present for you all!
it's the Diesel CR228L pack.