Success! I have taken NML to the next level, specifically using NML to generate random town names. What it does is it takes a list of bases (drawn from
Alberta Town Names
) and then randomly adds prefixes and suffixes to them. That means that even on the largest maps, you should never run out of names. For example, it is possible to get:
East Acme (another prefix)
Acme Place (another suffix)
North Acme Falls (both a prefix and suffix) and many others...
Prefix and suffix probability are relatively low, so you shouldn't be overrun with particularly long names.
This is an example list (high number of towns, 512x256 map):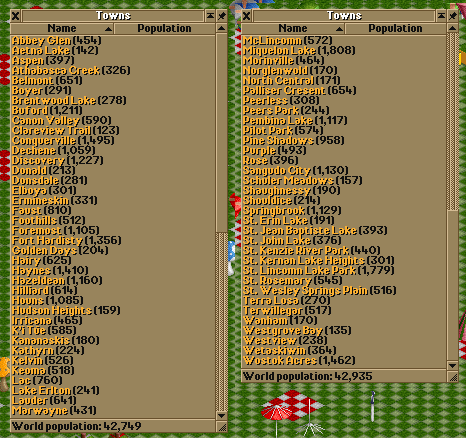 Available here or on Bananas. Enjoy!
If you have a name that you think should be added, let me know. Alternately, if you get a name that doesn't make any sense (like the 'Lake Cold Lake' I got in testing...), let me know so I can fix it! (and yes, 'Acme' is a real town in Alberta)
To Use:
1. Download

MinchinWeb's Random Town Names

through the game's online content system.
2. Select the GRF (

MinchinWeb's Random Town Names v1.1

) in the NewGRF menu.
3. Back on the game title screen, go to

Game Options

, and then under town names select

MinchinWeb's Random I
P.S.
Some of my favorite names that were generated in testing:
Edit (March 28, 2011):
The source file below *should* actually contain my NML source now. The source is also available at
https://code.google.com/p/openttd-noai-w ... wn%20Names
, which includes my Excel files that I used to generate this.