Roujin wrote:
Hello MinchinWeb,

I really liked the idea of this AI when I found it by chance on BaNaNaS, and used it in a game, along with TownCars, for some nice eyecandy and obstacles.
It started out fine building a nice road network between the towns, but later on it began messing up the routes, like you can see on the screenshot. I did use the company change cheat to give both AIs a nice amount of cash to work with, and later used it again to clean up some mess WmDOT made in an area that I needed to build in.

Notice that version 4 (revision 52d) of your AI is used, guess that was the newest version around when I started the game. OpenTTD version is 1.1.0.
Just for you Roujin, I added a "Cleanup Crew" to WmDOT, new for version 6. It helps, but isn't perfect. You see, WmDOT will (now) only build one road between each town pair, but later on, those town pairs can be across the map. The result is WmDOT will still sometimes build several routes parallel to each other. I'm not sure how to fix the problem more as WmDOT really has no conception of the network as a whole or really the map as a whole. Suggestions on how to improve this are welcome!
Unfortunately, this won't help you with your current game as the Cleanup Crew is run as part of the building procedure.
Below is a sample of the improvement Cleanup Crew makes. It's the same map, run for ~30 year with WmDOT v5 and ~40 years with WmDOT v6.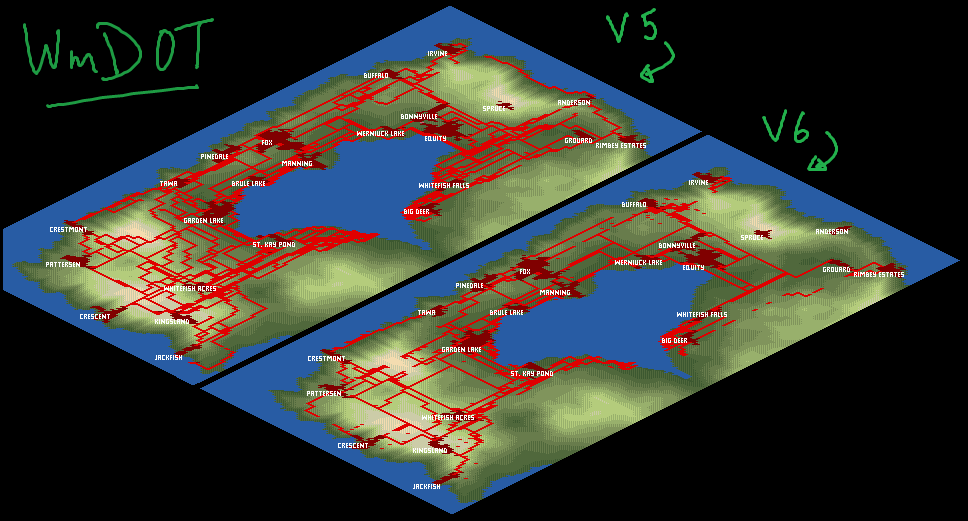 _________________
Alberta Town Names
- 1500+ real names from '
Acme
' to '
Zama City
'
MinchinWeb's Random Town Name Generator
- providing
2 million
plus names...
WmDOT
v13 - An AI that doubles as your highway department