Yeah, really nice to see how the project is getting closer and closer to "final" release.

One question, though: I've noticed in the Wiki that the docks are done, but as author there are Zephyris/buttercup mentioned. My question is: Which version is currently implemented in the grf files? My version, which is ready for some time now (see:
https://www.tt-forums.net/viewtopic.php? ... start=1760
) or the other one? I guess the Z/b one?
Then, since I've done the oil rig and the ship depot I thought it would be a good idea to have the docks in a consistent style with the other nautic sprites. Also, I personally find the other version of the docks from Z/b a little bit "boring" or "monotone" (sorry, I don't want to step on anybodies feet, that's just mho) compared to the docks I've announced earlier: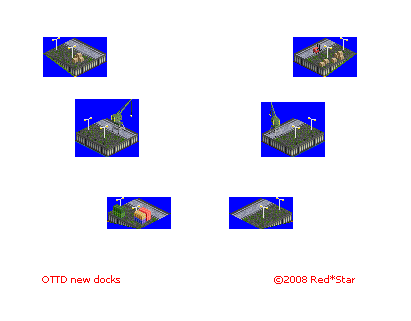 Another thing: I've probably got some free time on the weekend and would like to draw some things for OTTD. Could you send me the large version of the files with the "what-is-done"-markers, Zephyris? (Esp. ### "Sprites Done 2008-09-02.png")
So I could check what exactly still needs to be done? Would be nice