Trip History Patch v0.2 (Works with nightly r10737+)
This patch is designed to show information about the last 10 trips that a vehicle has made.
The columns are:
Received: When the vehicle delivered the cargo
Profit: Profit from the cargo
Change: Shows the percentage difference between the current and last trips profits
TBT (Time between trips): Shows the time taken between each trip
Change: Shows the change (in days) between the TBT values
The screenshots should give you a better understanding.
This is a WIP - features requests etc are welcome.
CHANGELOG
v0.2
Fixed spelling mistakes
0% values are now shown in green
Transfer virtual profit is now shown (in yellow)
Fixed save game compatibility
v0.1
Initial release
Attachment:
File comment: Train and ship trip history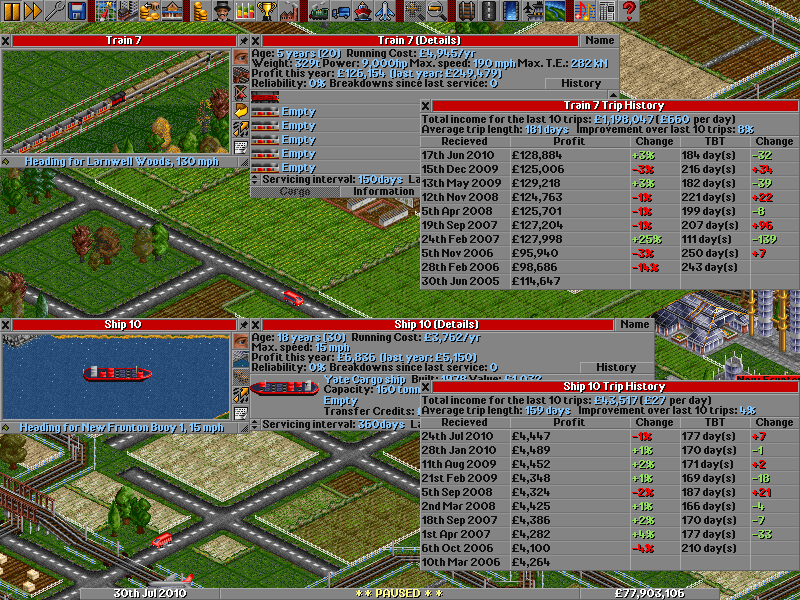 Sadborough Transport, 30th Jul 2010.png [ 79.3 KiB | Viewed 10292 times ]
Attachment:
File comment: Road vehicle and aircraft trip history window
Sadborough Transport, 29th Jul 2010.png [ 85.32 KiB | Viewed 10293 times ]