I've created a scenario for
Colorado
.
Download
With NewGRFs (has trams and electric trains, but won't work if you haven't downloaded the necessary NewGRFs, see below): Without NewGRFs (will always work, but has no trams or electric trains):
Update March 22nd 2021
I've updated the scenario to add the following improvements
More towns, all towns with a real world population greater than 1000 are represented (except for some suburbs of Denver and Fort Collins which don't have room).
Towns are larger, so their OpenTTD population is more accurately proportional to their real world population. 1 OpenTTD population ≈ 20 real world population.
I-25, I-70 and I-76 are now represented as highways instead of regular roads.
More realistic trees if you use the version with NewGRFs.
Characteristics
Size: 1024x1024
Climate: Sub-tropical
Towns: 111 (19 cities)
Industries: 52
Starting year: 1950
NewGRFs: Optional, see below
NewGRFs
I've made two versions, one with no NewGRFs and one with NewGRFs to be able to use trams and electric trains. These are the NewGRFs used in the version with NewGRFs:
Ansaldo-TIBB E652
E444R 'Tartaruga'
OpenGFX Trees
The first one is for using trams, the last one is for more realistic trees, and the three others are for using electric trains.
If you don't want NewGRFs there is also a version without NewGRFs. To download NewGRFs, go to Settings > NewGRF Settings > Check Online Content. For more information, see
https://wiki.openttd.org/NewGRF
.
Towns
46 towns are represented, of which 9 are cities and 13 have a population of more than 100 at the beginning of the game. The towns with a population of more than 100 each start the game with approximately 1/200 of their real population in 2020.
The layouts of the towns have nothing to do with their real layout, but is adjusted so that the population of the town in the game is proportional to their real population.
Industries
I've tried to place the industries as realistically as possible while still having at least one of each type of industry available. As far as I know, there are no rubber plantations in Colorado in real life, but there is still one in the scenario to make the game more fun. All other industries are more or less where they would be in real life. None of the industries have exact real life equivalents.
All desert towns have water towers, so you don't need to worry about towns not being able to grow because they don't accept water.
Landscape
Most of Eastern Colorado is a flat desert, and the Rocky Mountains are represented in the West.
Unfortunately the trees in the OpenTTD subtropical climate aren't the kinds of trees that exist in the mountains Colorado, so the trees that I placed in the mountains aren't the kinds of trees that are there in real life. In the version with NewGRFs I've added a NewGRF which makes it better, but it's still not perfect.
Six rivers are represented: Platte River, Clear Creek, Arkansas River, Arikaree River, Colorado River and Gunnison River.
Screenshots
The entire map: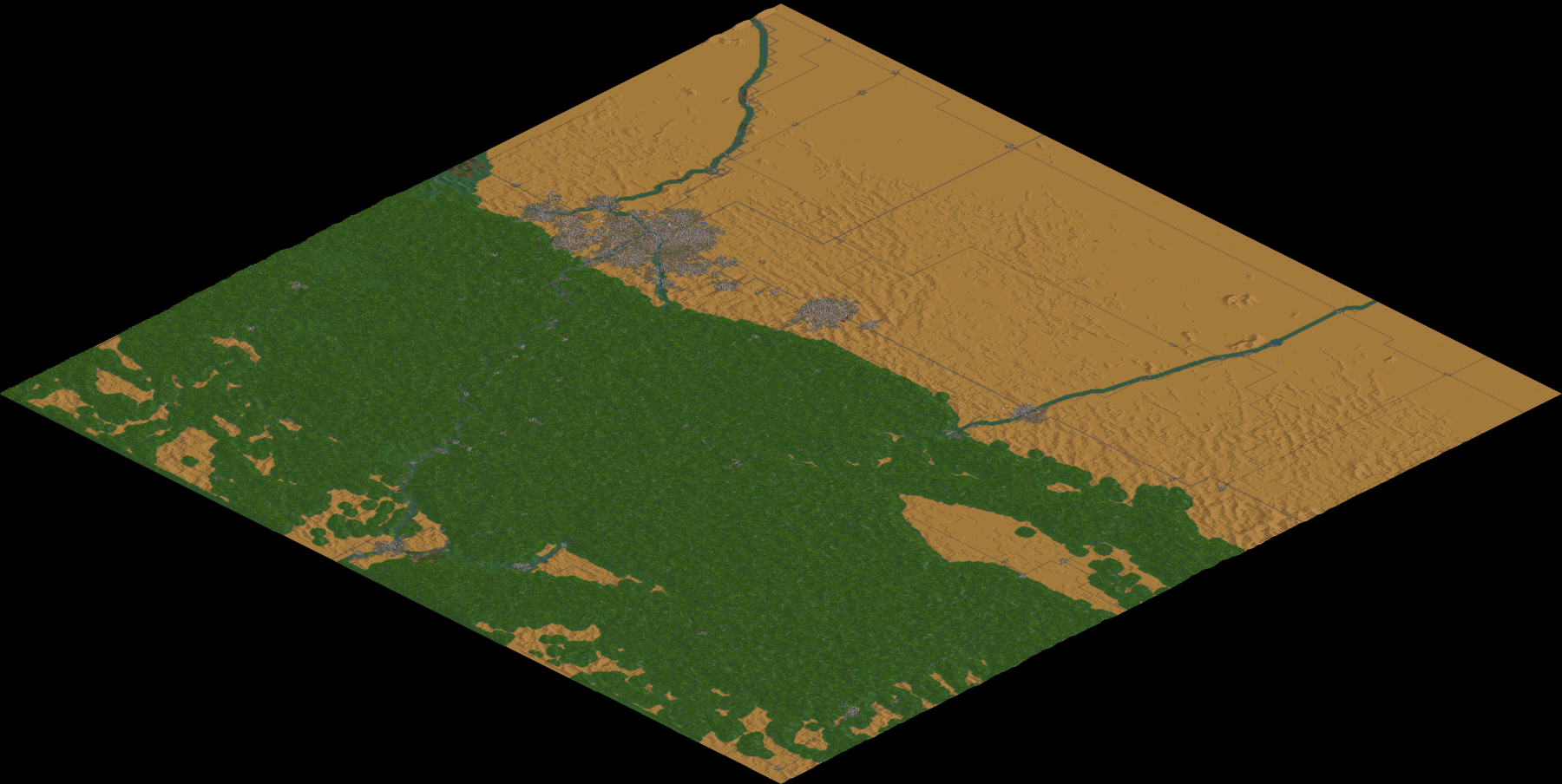 Zoomed in on Denver: