What times, eh?
Just in time for OpenTTD 1.10.0, Version 1.0.00 of UKRS3 is now available from the in-game content download. This set features British trains from 1900 to 2000, and - much like the original UKRS - can be considered a remake of the default temperate train set.
Features include:
2x zoom / 32bpp graphics.
2cc company colours, with optional black colouring for steam locomotives.
Simple variable running costs (1/4 cost while loading/unloading).
Animated steam locomotive wheels and rods.
Custom horn/whistle sounds.
"Smart" wagon and passenger car variations.
Infrequently asked questions:
1)
Why 32bpp? Doesn't that make the set incompatible with most other GRFs?
There's no technical reason you can't run 32bpp and 8bpp newgrfs together. Unless you've changed some pretty obscure settings, your OpenTTD is running in 32bpp - and unless you're using some really, really antique hardware, your OpenTTD runs
better
in 32bpp.
32bpp does not mean 3d rendering, or imply an inconsistent art style. I drew these graphics in a similar way to all of my older NewGRFs - switching to 32bpp just makes it much, much easier!
2)
Why 2x zoom? Doesn't that make the set incompatible with most other GRFs?
I personally use a combination of 4x, 2x and 1x graphics when I'm playing OpenTTD. There's no technical incompatibility, and not necessarily any jarring stylistic differences, either.
I've been playing TTD for 25 years. When I first started, I was using a 19" CRT monitor. At 640x480, that monitor had a pixel size of approximately 45 per inch. Today, I'm playing on a 24" 1080p LED display - not particularly high-res by current standards. But even at that size and resolution, the ppi is roughly twice that of the CRT - in other words, 2x zoom is needed to make the sprites
look the same size on my screen
as they did at normal zoom back in the 90s. So since 2x zoom best represents the "feel" of TT on even half-way modern systems, I decided to switch to 2x zoom as a default for hand-drawing sprites. And more detail is not a bad thing at all! Here's a comparison between UKRS2, UKRS3, and the "Pineapple" 3d-rendered 4x zoom sprites:
The style is still entirely compatible with 8 bit, normal zoom graphics: for example, here is a UKRS3 train with the OpenGFX base set and ISR stations, at 1x and 2x zoom levels: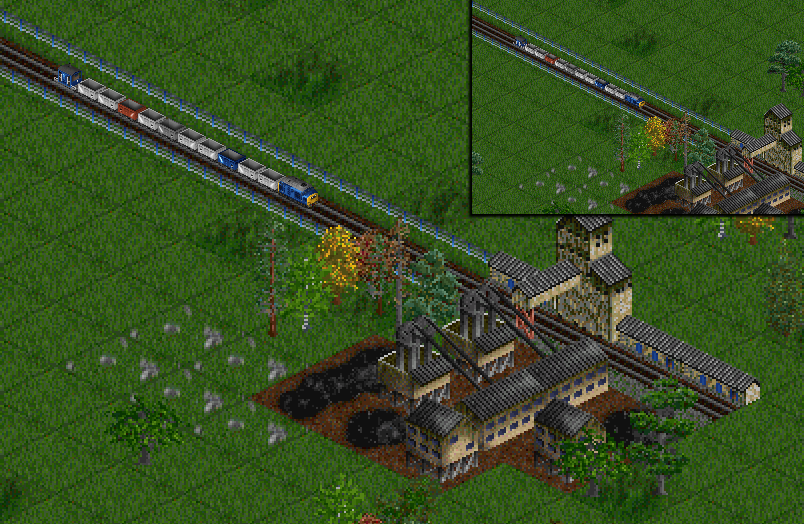 3)
Why 1900 to 2000? Why not earlier, more modern, or futuristic?
Transport Tycoon has always had a 100 year standard game length. TTO ran from 1930 to 2030, and stopped introducing new vehicles after its real-world release date of 1995. TTD moved the dates to 1950-2050 and had a wide selection of fictional vehicles in the second half of the game, taking advantage of the "sci-fi" vehicle sprites which had been created for the TTO World Editor.
For my current series of NewGRFs, starting with UKRS3, I have decided to focus on 1900-2000 time frame. The 20th century best captures the spirit of the original Transport Tycoon: it's appropriate for industrial production and transport, for all four transport types, and has a good balance of "old" (steam/piston) and "modern" (diesel/jet) technological eras. It's a reasonable timeframe for a static industry set (eg coal-fired power stations and oil refineries), and also avoids vehicle sets becoming outdated as fictional "futuristic" vehicles get overtaken by reality as time goes by - something which both UKRS2 and Av8 have suffered from.
As always, feedback is very welcome. Let me know what you think, and enjoy!