wallyweb's Bridge Set


=================
A set of bridges that work fine in OpenTTD for 13 bridge IDs but are best used in JGR Patch Pack, v0.26.0 or newer so as to access unique menu icons and three extra bridge IDs for a total of 16
.
Attachment: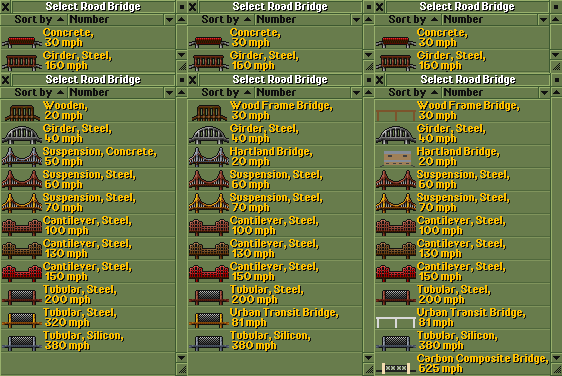 W_B_Panel_1.png [ 20.21 KiB | Viewed 1020 times ]
Left Panel:
OpenTTD default bridges -
Center Panel:
OpenTTD with wallyweb's Bridge Set -
Right Panel:
JGR's Patch Pack with wallyweb's Bridge Set
Description of Current Bridges:
#1 Wood Frame Bridge
#4 Hartland Covered Bridge
#12 Urban Transit Bridge
#16 Carbon Composite Bridge
Attachment:
Wallyweb's Bridge Set.tar [142 KiB]
Downloaded 98 times
There is a parallel discussion at
Simuscape
.
GRF Id: 57422004
-- The last digit in the GRF Id reflects the quantity of bridges completed and included in the set.
-- Previous GRFs will be archived for saved game maintenance purposes.
© 2018 wallyweb, all rights reserved
License: Creative Commons BY-NC-ND 3.0
-- The license may be viewed at
https://creativecommons.org/licenses/by-nc-nd/3.0/
August 16, 2018