Iron Horse "Quicksilver" Add-On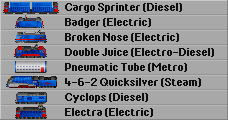 Licensed under GPL v2.
Source Code can be found here!
Why Quicksilver?
The Quicksilver locomotive was made (with Pikkabird's permission) because Iron Horse does not and will not have an included streamlined steam engine, and was the original scope of this Add-On. We've since expanded the scope a bit.
Why Version 5.X so soon?
The versions between 1.0 and 1.7, plus the ones between 1.9 and 2.9 were for testing the coding, leaving a huge gap from unreleased versions that weren't quite up to the standard. This continued with skipped versions until we had 4.X available now.
Furthermore, I was too loose and fast with compiling. 4.3 is the first 4.X version that didn't have horrible glitches in the graphics, and subsequent lack of testing (feel free to complain) led to 5.4 being essentially a re-upload of 4.3... Hopefully it's fixed now!
What happened to the Combine Car?
It's meant to work with Iron Horse 2.X, which does not include Double Juice, Cargo Sprinter or Cyclops. Since the Combine Car was based on a North American Combine Car, I removed it from the Add-On.
Is Iron Horse 2.X out yet?
As of this writing, no. Feel free to hide the Double Juice, Cargo Sprinter and Cyclops while using this set with Iron horse 1.9.1 to prevent duplicates.
EDIT:

Newest version has stats better balanced against Iron Horse.
Thanks to...
Pikkabird (For using his graphics)
Gwyd (For helping to code the graphics and handling the graphics alignments)
acs121 (For upcoming engines)
Download
Attachment:
File comment: v6.0, includes NewGRF and license. See above for Source Code.
qs6.0.zip [11.02 KiB]
Downloaded 36 times
Also available on BaNaNaS.
_________________
Licenses for my work...
You automatically have my permission to re-license graphics or code by me if needed for use in any project that is not GPL v2, on the condition that if you release any derivatives of my graphics they're automatically considered as ALSO GPL v2 (code may remain unreleased, but please do provide it) and carry this provision in GPL v2 uses.
Please ask someone in-the-know to be sure that the graphics are done by me. Especially

TTD-Scale

, long story.