First I thank everybody for the support.
This update contains 6 two tile apartment houses. All buildings come in two versions: in 2x1 and 1x2 tile orientation. You can see in the following screenshot how you could for example use these buildings.
This screenshot is composed using the "Fund new house" patch in the scenario editor. Main amount of the buildings are from the Swedish houses and from TTRS. From this set are three skyscrapers and three 1x2 white houses in the middle.
Attachment:
File comment: Example usage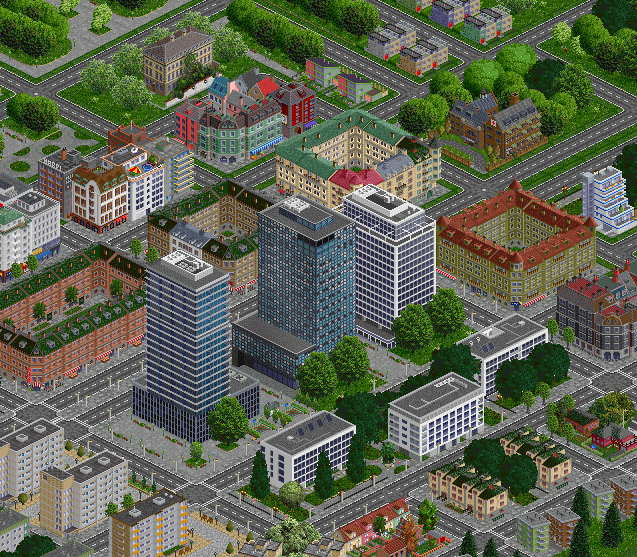 1000 Building Set Example usage v0.1.1.png [ 503.62 KiB | Viewed 11962 times ]
I now try to address questions and comments raised by Kalen. First thank you Kalen for this comparison. It was very interesting.
This set indeed tries to fill the big cap in peoples hearts left by the desire and wait for the bigger buildings. But it will not contain only big, but also smaller buildings: apartments, offices, individual houses etc. The main coal is to bring greater variety of beautiful buildings into the game and indeed raise a new standard.
I think that this set can be combined at least with TTRS and Swedish houses, at least by carefully selecting buildings from these sets as can be seen in the above screenshot. I can not criticize the Polish building set as this set can be considered as the mother of this set,

but I agree that it is hard to combine it with NACS or Japanese set as the color usage is quite different.
In principle, if my own graphics will be exhausted (but I still have plenty of half finished buildings), I would like to include hand picked and perhaps customized buildings from TTRS and Swedish houses and even from other sources if the licence would allow it.
I am not sure that this set can yet very successfully used when the towns are automatically generated as the generator does not pay attention to the beauty aspect.

Another reasons behind this is that many houses in this set would be wall to wall, even skyscrapers and would require additional elements in-between the buildings. I would not pay attention to this at the moment, but this would be something I at least would like try to address in the future.
I also do not think that highrises from other sets could be very successfully used along with this set, as their sizes look odd in comparison with this set. But peoples tastes are of course different and what might look odd for me, might be perfect for somebody else.

I will try to sort out the coding issues later, but these raised here were noted.
Another thing to pay attention is the balance of the habitants in the building. Unfortunately only 1 byte is reserved for the habitant count and its maximum is therefore only 255, what is definitely too low for the highrises. I set the large buildings to maximum (255) and apartments to 70 at the moment.
I am now working on incorporating more of my drawings into this set, so please stay tuned and patient.