After a lot of trial and error. Especially the latter, I made the set modular, so it'd be easier to add new trains to the set. (Not that there are that many
I added the train that's going to be the Changsha Maglev. Wasn't this train in the first version? Yes, but I found out what the difference between the
Zhuifengzhe
and the
Zhuifengzhe
is... I used the English name for the former and the Chinese name for the latter for the convenience. I actually never found a source calling the first the Zhuifengzhe, but I did find a source naming the latter the Zhuifengzhe, saying that it's Chinese for "Wind Chaser". So I went with what I went with.
I also tweaked a few sprites and renamed the M-Bahn, as that was the name of the line, and not the name of the vehicle.
Some things I have left to do:
- balance the prices
- assign a logical amount of kWs (power) to the trains
- get mass values for both Zhuifengzhes, Line S1 and the L0-series.
I would love to get some help with that. This is what I've got so far:
this
Anyhow, version 0.3:
The maglevs in version 0.3:
Attachment: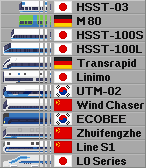 maglev3.png [ 4.98 KiB | Viewed 6778 times ]
version 0.3 itself. Delete the previous versions as the name of the file is different, but the name of the set isn't.
Attachment:
MMT.grf [30.41 KiB]
Downloaded 95 times
In other news, I've found a maglev train hidden in
the back of the Korean Wikipedia
, the SUMA550 a quick google-images gives you
1 youtube video
and 4 photos. Clicking on the images (and the "similar images") you find
1 technological document about the train
2
arti
cles
written about it. The latter links to
another article
about this train and maglev transport in general. Unfortunately it's all in Korean, so you'll have to make do with top-notch Google translation.
Unfortunately, none of the articles give me the passenger capacity, which is sad. Based on the train itself, it probably has either 24 or 16 seats. Not sure about the amount of people who can stand, I suppose at least 44 or 60 people, depending on the amount of seats (assuming that they're not going full "screw a) your luggage and b) your personal space" like the NS (Dutch Railways) (Please NS, fix your ***).) This makes for a total of 68 or 76 people. Which seems reasonable, given that it's 1 metre shorter than the UTM-02 and the fact that a) it's only one car, so there are two heads on one car and b) the heads are steeper, making for less room for people to stand. </rambling>
Please enjoy this unbalanced version of my Modern Maglev Trains set.