After goofing around with the PixelTool for a while, I finally decided to make my very first functioning road vehicle. Rather than something practical, I went with the Family Truckster. This is just a lark - I'm not intending to make it a full release or anything, but it was fun to make. It only comes in metallic pea green with wood panelling - no company colors. It seats 7 if you put 1 passenger on the roof. No room for livestock (dogs) in the car.
Attachment:
File comment: Family Truckster driving through the southwest US.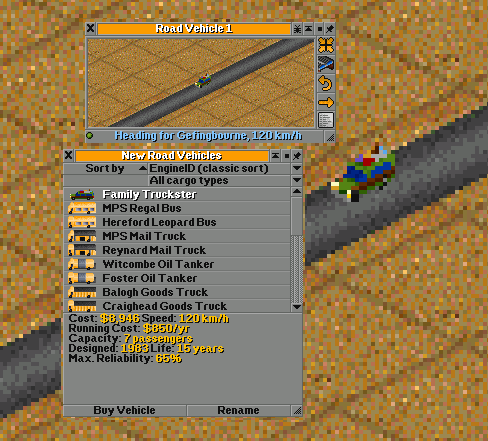 family-truckster-in-game.png [ 214.1 KiB | Viewed 1769 times ]
Attachment:
family-truckster.grf [1.7 KiB]
Downloaded 100 times
Course, I did also make a Winnebago that I could code up too - maybe this will at some point be integrated into a vacation (lower case V) set in the future...