*UPDATED WITH TAR FORMAT FOR EASY DOWNLOADING!*
(Download at the bottom of this first post)
NOW ON BANANAS FOR DOWNLOADING INGAME VIA THE CONTENT DOWNLOADER!
(AS OF APRIL, 21, 2020)
So I was looking around for a NewGRF Separator GRF so I can clean up and manage my loaded GRF list, but I couldn't find any that worked (one wouldn't show, while the other didn't have all the categories I wanted)
So I whipped up a quick GRF pack that contains simple NewGRF Separators, all coded from NML. I even colored the names of the GRF's green to make finding them easier among all that grey text.
Its a bit crude, and may have spelling mistakes in the descriptions, but for now the main part of NML-CS has been dealt with. If there are any problems, major and minor, you can report them in this thread or drop me a private message and I'll get back to you when I can.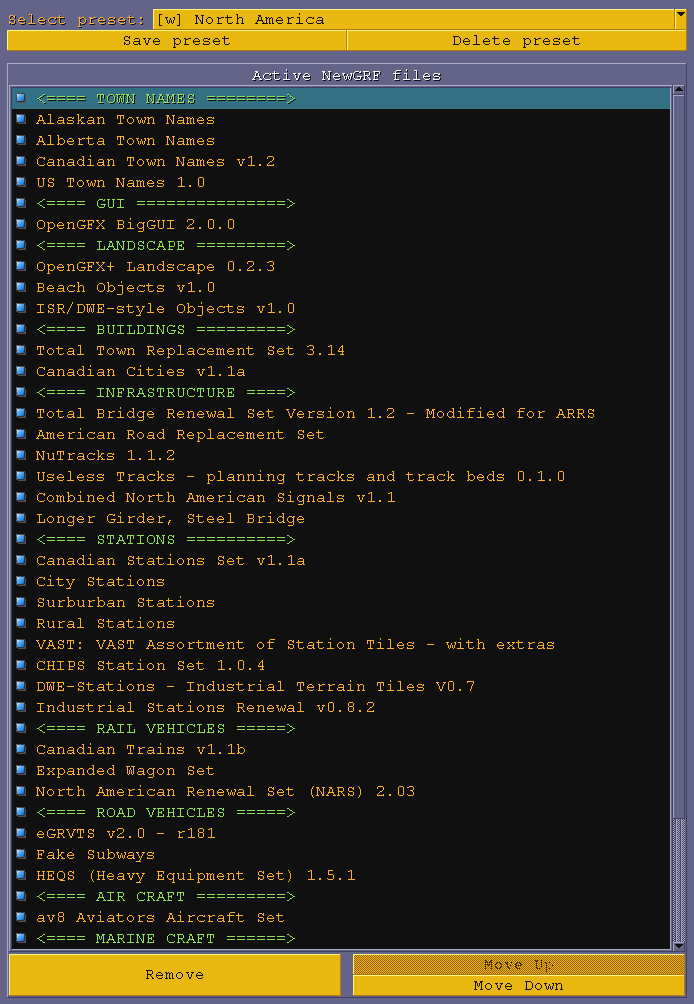 [Installation]
1. Download to your computer and move the file to your newgrf\data folder, alternatively you can just download the TAR file to your newgrf\data folder directly.
For most users it will probably be in your user account folder (Eg. C:\Users\Neko\Documents\OpenTTD) or for linux users > (/home/Neko/.OpenTTD)
For other users it will probably be in your OpenTTD Install (Eg. C:\Program Files\OpenTTD)
*OpenTTD will load tars as of 0.6.3 (as far as I know), so extraction wont be necessary unless you need to do something special with the grfs!*
2. Use OpenTTD's ingame NewGRF Menu to load up the Category GRF's. Their names are colored green for quick access.
3. Enjoy a organized NewGRF List! Don't forget you can click and drag GRF's in modern OpenTTD builds (I think its been like this since the new NewGRF window)