Level Crossing wrote:
It supports corners too, right?
Not yet, but I intend to make tiles for corners. Outside corner will be a bit tricky though...
Also the slopes need separate graphics.
Level Crossing wrote:
PS Maybe make the color of the line configurable to allow NA Roads support?
The line colour is actually fine for NA Roads, as roads in North America have yellow lines in the middle and white lines at the sides. But it's the tarmac that's the problem; I'm using the OpenGFX road sprites to make the shoulders and these just don't fit the NA Roads, see for yourself:
Attachment: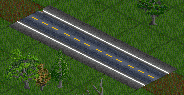 hardshoulder_NARoads.png [ 4.12 KiB | Viewed 22797 times ]
On the other hand I've seen numerous hards shoulders in the US made from a different type of tarmac/asphalt than the actual road surface, so in that sense it could work that it's different...
At this point I don't have plans to draw matching sprites for any other road set myself, but if someone else wants to make the sprites I can look into adding them.
planetmaker wrote:
I'd slightly step down on the brightness of the white lines. They seem more shiny than the middle one - while they usually are less so.
Actually I used the very same colour, it's probably because of the larger 'surface' that it looks brighter. I'll make them less bright, as they are currently too bright for my liking as well

planetmaker wrote:
But great stuff!

Thanks!