Hello,
I've made a Slovak Bus Set, that adds buses operating in the Slovak Republic, we aimed at liveries by towns and regions. I've decided that we are going to release our first BETA version of it.
I cut out Solaris buses because of a lack of time to make code right - it didn't work as we wanted. Enjoy!
For more information you can visit the development topic where I write what I do currently:
STGFX Development
What you need to know!
I've made similar types hidden as in the case of B731, B732, and B732 CNG. And there are some differences between them, but it is way too little to make a messy purchase menu. So, if there are more subtypes, that can help you play (lower running costs, higher speeds, etc.) it is in the description while purchasing.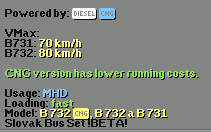 And you have "Powered by" and for now four types:
Diesel - most expensive
CNG and Electric - lower running costs
Hybrid - currently only available to Iveco UrbanWay 12m, that runs on diesel, but as soon as the vehicle is going under 20 km/h, it switches to battery, and you have lower running costs during this.
If Iveco Urbanway 12 in the Hybrid version, will show you a little icon of battery if it runs slower than 20 km/h.
Current version:
STGFX Bus set B1.00.02
Archive of the versions:
First ever version: