jfs wrote:
Here's a bunch of the changelog items I think warrant attention when trying out the betas, since these are among the more likely ones to cause new issues:
Change: Make ships turn slowly when changing direction and stop when going up or down a lock (#7065, #7150)
Ship movement has changed a bit, take note whether this causes them to move in weird ways or seem to flicker around or such.
The new ship movement through locks is a pleasure to watch. I've always disliked the smooth movement, particularly upwards, which seems to defy physics. Once I saw another type of animated lock here on the forum somewhere that looked a lot more like the real thing. I hope that it will be revived and put in a GRF.
Quote:
Change: Decouple GUI timing from game ticks (#6780)
This allows faster fast-forward and various other niceties, but might cause some windows to not be updated correctly at times. If you discover a window that doesn't seem to update when you do something that ought to update it, give a note.
Hopefully, this is the first step towards a real variable daylength.
Quote:
Change: Clone tool in depot window now behaves like clone button in vehicle window (#6754)
Just might take a little getting used to, it shouldn't cause bugs

So far, it's annoying, but I
may
get used to it - in a few years. There
is
what looks like a bug, because the clone button is missing from the vehicle window of a newly created ship:
Attachment: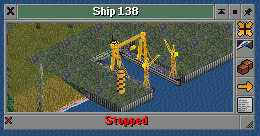 Selection_062.png [ 24.67 KiB | Viewed 1363 times ]
It's there the next time the ship visits the depot.
Quote:
Change #6397: Keep town growth rate in sync with house count
Change: Switch town growth rate and counter to actual game ticks (#6763)
These should be safe, but do take note if some towns seem to grow too fast or too slow. Also need testing with Game Scripts!
Haven't tested this yet, I've turned town growth off.