This problem is caused by UK roads not being compatible with OpenGFX. Bridge sections have two sprites, one with the deck and the back of the bridge, and the overlay which is the closer edge of the bridge. The problem is that UKRoads only supplies bridge sprites for the original TTD graphics, and OpenGFX provides the overlays, causing the inconsistency you see.
It can also happen with any other baseset - here is a screenshot of zBase and UK Roads and you can see the problem. No other GRFs are loaded.
Attachment: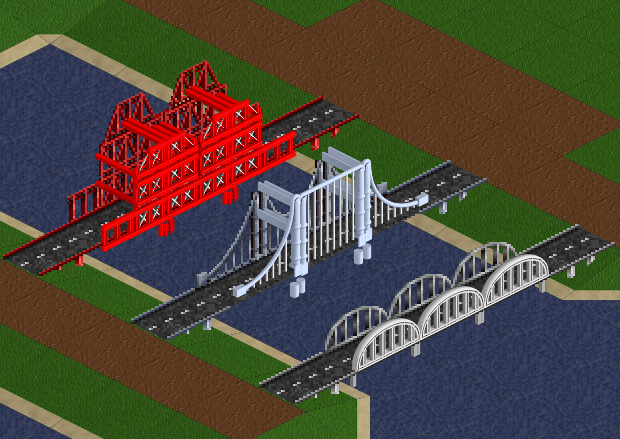 bridges.PNG [ 388.07 KiB | Viewed 2712 times ]
Solutions to this problem are either using the original TTD graphics, or using a new bridge set, such as TBRS (but I'm not sure if it has a UK roads edition, otherwise the bridge decks use default roads)
It would be a simple matter to create a NewGRF that replaces the bridge overlays with the default TTD ones, has anyone ever done this?
_________________
--Stuff I made (or helped make)--


--My Award-Winning Screenshots and Videos--