More modular experimentation.... Have worked out the basic roof and window options for the basic steel arch train shed. Rendered glass cannot directly be used in game, so this is just conceptual. In game i will either leave all fenestration open, or add a solid opaque sprite that is masked to a transparent grey like the default 8bpp stations.
Attachment: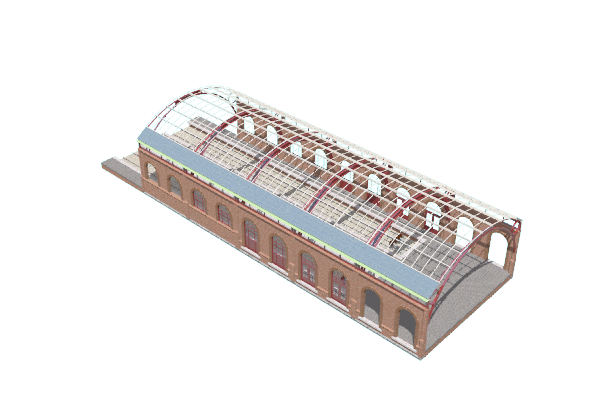 Brick Fenestration 1.png [ 180.57 KiB | Viewed 11799 times ]
Attachment: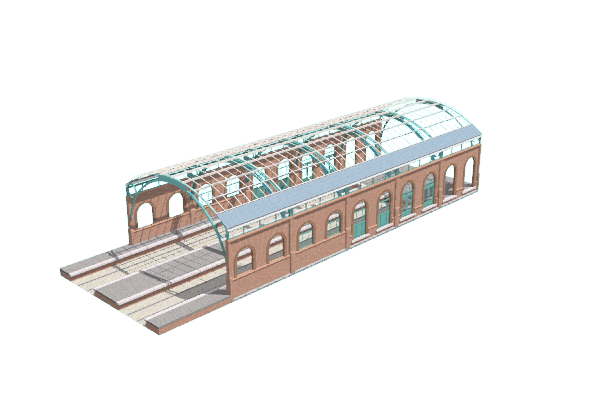 Brick Fenestration 2.png [ 161.1 KiB | Viewed 11799 times ]
Attachment:
Brick Fenestration 3.png [ 148.41 KiB | Viewed 11799 times ]
The small details are pretty insignificant, but they include tall arches with either windows, doors, or nothing, and smaller arches with windows or nothing. The flashing/gutter along the edge of the roof will either be copper or zinc colored. The solid roof area may change material.
Under the roof, we have basic two sided platform bays, buffers, and a full platform height empty floor tile. The buffers barely show through the roof so they are very rudimentary. I don't want to add much more than this, but various benches and signs could be added, as well as single sided platforms, and maybe over and underpasses for passengers. If waiting passengers are shown, it will be as drawn or architectural style scale people, not rendered models. A version with iron columns instead of brick walls is planned, and perhaps optional wider sheds for 3 or 4 tracks.
A lot of work needs to be done on the render settings, and extra texture detail. The concrete track floors will be given so relief with drains and gutters, and brick walls will get weepholes and tiebars.
Maybe I should split this off to a new topic?