(1.1 update):

(1.2 update):

(1.3 update):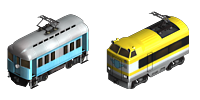 Over the last few months, I've been working on some 32bpp train sprites. And here they are! Hopefully, this is the beginning of a number of 32bpp/ez newgrfs, and perhaps even a base set.

BAD

FEATURES:
Locomotives!
15 fictional locomotives, introduced from 1895 to 2001 (4 steam, 4 diesel, 3 electric, 1 DMU, 2 EMU, 1 monorail).

1.1 update: 5 more locomotives (2 steam, 2 electric, 1 DMU).
1.2 update: 1 more locomotive (1 diesel).
1.3 update: 2 more locomotives (2 EMU).

Simple variable running costs (locomotive running costs are reduced by 75% during loading in stations or waiting at [pbs] signals).
Custom whistle/horn sounds, but no running sounds.
Wagons!
Single generation - you use the same wagons in 2020 as you did in 1920. It's like Transport Tycoon!
Full (hopefully - let me know if you encounter any problems) newcargo support, including

autorefit

refit-in-station.
Completely non-compulsory caboose, for those who like that sort of thing.
Overall, this is a very vanilla set. There are no consist restrictions and no changing stats (apart from the simple variable running costs).
SCREENSHOTS:
(Someone take me a screenshot or two, please!)
ASKED QUESTIONS:
(will go here!)
Now available from the in-game content. It's 140mb, so bring a book to read while it downloads!