CityLifeAI
Have you ever been stuck behind a horse ridden carriage or a very rude cyclist when travelling to work? This will provide this experience and more!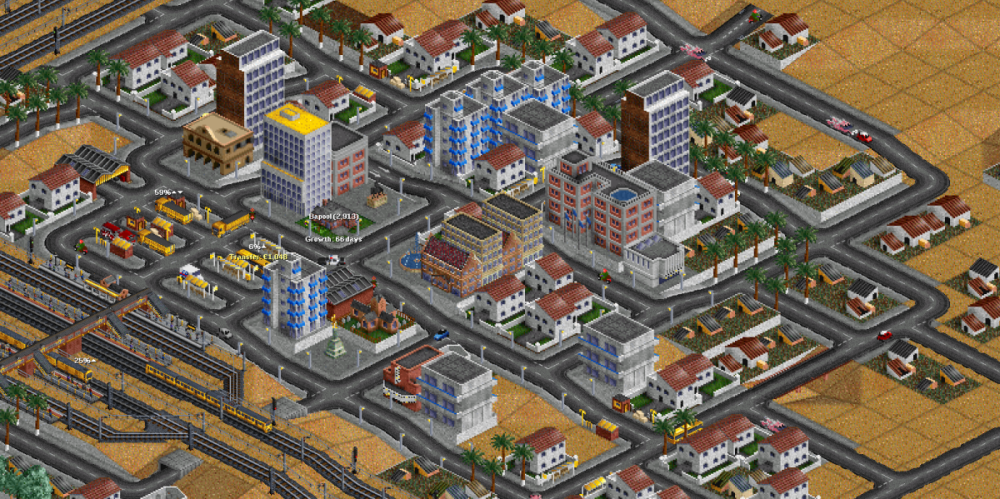 How this works:
Populates villages, towns and cities with traffic of eye candy vehicles available in several newGRFs. The vehicles are split into several categories: cars, mail trucks, service vehicles. The AI manages the number of each category dependent of the size of the city. No more five fire trucks in a small village.
By providing outstanding public services to the city, more people decide to use it, so the private transportation decreases. Also transporting mails decreases the number of small companies that provided this service, taking them out of business and out of traffic.
This AI was designed to support NRT roads of "any" kind. On top of that, when the city reaches enought population, they decide to finally connect to the nearby towns. However some of them are corrupt and use up the money without building anything or hire some questionable builder to build unconnected roads. But if they succeed, they celebrate it in a big way!
For more information, read the readme file:
readme.txt
Settings:
You can't change the decisions of the cities, they act on their own, no amount of trees can solve it.
Requirements:
- OpenTTD, v. 1.10.x or newer.
-
SuperLib v. 40
,
SCPLib v. 45
,
AIToyLib v. 1
(all available in BaNaNaS and OTTD's "Online Content").
- Any eye candy road vehicle newGRF (with 0 running cost)
- Game Script which supports GSToyLib (otherwise it will bankrupt fast)
Recommended newGRFs and GS:
-
Eyecandy Road Vehicles
-
Funny Cars
-
Generic Cars
-
DROP
-
Renewed Village Growth
Download:
The latest version can be downloaded from
Changelogs and download links
.
The development with source codes can be found in github:
https://github.com/F1rrel/CityLifeAI
Changelogs and download links:
Version 2.4 by WalkedBy (2021/10/10)
Version 1.0 (2021/07/12)