Renewed Village Growth (RVG)
RVG is a Game Script that manages towns growth in a new and balanced way, making growth depend on varied cargo delivery (passengers, food, goods, ...) and sustained transportation of passangers and mails. The script supports Baseset, FIRS, ECS, YETI, NAIS, Improved Town Industries. It is born as a combination of
keoz's Renewed City Growth GS
and
Sylf's City Growth Limiter GS
.
How this works:
The script only triggers growth in the towns which are already exchanging passengers. Its growth rate is calculated (non linearly) on the basis of the degree of achievement for cargo requirements. If there is more cargo than necessary, it is stockpiled for later use.
The growth will be completely stopped when insufficient amount of passangers and mails are transported from the city, limiting its growth when the infrastructure is not maintained.
Cargo requirements are not defined for individual cargo types, but for cargo categories. Depending on the used industry set, there are 3 or 5 categories. It doesn't matter which type of cargo you deliver to achieve category goals. The cargo categories are described in StoryBook, for example FIRS 3 Extreme is defined as below: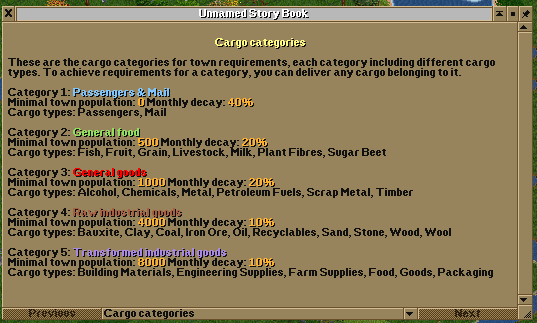 For more information, read the readme file:
Requirements:
- OpenTTD, v. 1.10.x or newer.
- GS SuperLib, v. 40, ToyLib, v. 1, Script Communication for GS v. 45 (you can find it on BaNaNaS, also accessible through OTTD's "Online Content").
- Industry sets: you can use Baseset (all climates), FIRS 1.4, 3, 4 (all economies), ECS 1.2 (any combination), YETI 0.1.6 (all except Simplified), NAIS 1.0.6, ITI 1.6, XIS 0.6. Using RVG with any other unsupported industry set may result in odd - or unstable - behaviours.
Download:
The latest stable version (v5.0) can be downloaded from BaNaNaS.
The development with source codes can be found on github:
https://github.com/F1rrel/RenewedVillageGrowth
.
Changelog:
Version 5.0 (2020/11/24)
Version 4.3 (2020/09/14)
Version 4.2 (2020/08/30)
Version 4.1 (2020/08/04)
Version 4.0 (2020/08/04)
Version 3 (2020/05/17)
Version 2 (2020/05/13)
Version 1 (2020/03/08)