Renewed Village Growth (RVG)
RVG is a Game Script that manages towns growth in a new and balanced way, making growth depend on varied cargo delivery (passengers, food, goods, ...) and sustained transportation of passangers and mails. The script supports any Industry NewGRF set. It is born as a combination of
keoz's Renewed City Growth GS
and
Sylf's City Growth Limiter GS
.
How this works:
The script only triggers growth in the towns which are already exchanging passengers. Its growth rate is calculated (non linearly) on the basis of the degree of achievement for cargo requirements. If there is more cargo than necessary, it is stockpiled for later use. Cargo needs to be provided to a station near the town which accepts the required cargo type. If there are no nearby industry accepting that cargo type, it needs to be funded.
The growth will be completely stopped when insufficient amount of limited cargo types (usually passangers and mails) are transported from the city (generated by the city buildings), limiting its growth when the infrastructure is not maintained. For passangers and mails, the transportation fulfillment can be seen in the town box, for example Passangers last month: 173 max 371.
Cargo requirements are not defined for individual cargo types, but for cargo categories. Depending on the used industry set, there are 3 to 5 categories. It doesn't matter which type of cargo you deliver to achieve category goals. The cargo must be delivered to a station accepting that cargo which is also close to the town. The cargo categories are described in StoryBook, for example FIRS 3 Extreme is defined as below: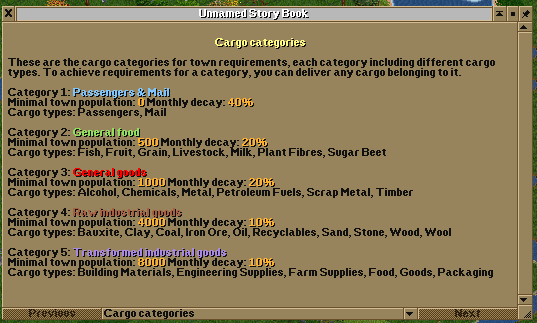 Each town decides monthly on a best contributor, who contributed the most to fulfilling the town categories. The contributor then receives points for the towns for growing them over their previous maximum population.

Additions:
The game script also contains other useful additions:
- Industry NewGRFs - explicit support for more than 30 different economies
- Randomization - chose between 13 types of cargo/industry randomization
- Subsidies - game script specific subsidies generation
- Eternal love - maintain good relations with town autorities even after committing atrocities
- Industry stabilizer - maintain a set amount of raw industries on the map, useful for creating maps with only raw industries
- ToyLib - allow toy AI to survive no matter what they do
For more information, read the readme file:
readme.txt
Translations:
If you are interested in providing a translation, you can do it by modifying this
english translation
and posting it to the forum topic, direct message or by creating a new issue/pull request in RVG github with the modified file included.
By sending the translation file you agree that the translation will be used for RVG game script and be released under GPLv2 license.
Currently available languages:
- English
- French (rmnvgr, Elarcis)
- Slovak
- Czech
- Simplified Chinese (SuperCirno)
- Polish (qamil95)
- Galician (pvillaverde)
- German (pnkrtz)
- Japanese (fmang)
Requirements:
- OpenTTD, v. 1.10.x or newer.
- GS SuperLib, v. 40, ToyLib, v. 1, Script Communication for GS v. 45 (you can find it on BaNaNaS, also accessible through OTTD's "Online Content").
- Industry sets: you can use any industry NewGRF
- these are specifically supported industry NewGRFs: Baseset (all climates), FIRS 1.4, 2, 3, 4.3 (all economies), ECS 1.2 (any combination), YETI 0.1.6 (all except Simplified), NAIS 1.0.6, ITI 1.6, 2, XIS 0.6, IOTC 0.1, LJI 0.1, OTIS 03, WRBI 1200, Real Beta.
- tested procedural generation: AXIS, AIRS.
- using RVG with any other unsupported industry set will contain proceduraly generated categories, which may not be optimal
Download:
The latest version can be downloaded from BaNaNaS or from the changelog below.
The development with source codes can be found in github:
https://github.com/F1rrel/RenewedVillageGrowth
.
Changelogs and download links:
Version 9.2 (2023/04/02))
-
download link
- fix: Funding failed continuously when no industry could be funded
Version 9.1 (2023/04/02))
-
download link
- new: Japanese translation (fmang)
- mod: Updated french translation (Elarcis)
- mod: Updated slovak and czech translations
- fix: STR_SB_WELCOME_LIMIT_GROWTH_DELAY substitution (fmang)
- fix: Is raw cargo categorization
Version 9.0 (2023/02/11))
-
download link
- new: German translation (pnkrtz)
- new: Probability to use nearby cargo types
- new: Subsidies generation
- mod: Updated cargoes in XIS economy (qamil95)
- fix: Changing cargo categories after save/load in procedural generation
- fix: Corrected STRING parameters in translations
Older: