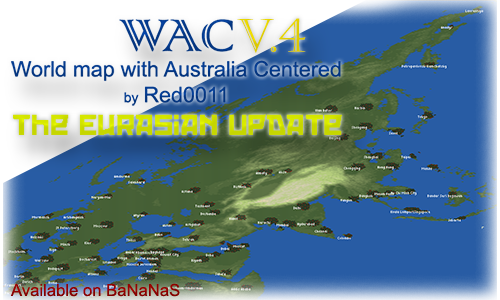 I present to you... World (map with) Australia Centered (WAC)
Placement of cities is not 100% accurate, I did my best. Some cities have been misplaced and joined together with other cities on purpose.
V.4 The Eurasian Update
This update brings 20 new cities/towns, majority from central and northern Asia. The map now has 137 cities/towns
Astana is not a new city, it has however been update to a more accurate location.
Aksu
Aktau
Almaty
Amderma
Anadyr
Arkhangelsk
Ashgabat
Astana (Updated)
Atyrau
Baku
Bishkek
Bucharest
Dushanbe
Kiev
Lavrentiya
Minsk
Murmansk
Naryan-Mar
Riga
Salekhard
Tashkent
Download
This version can be downloaded from
the in-game content downloading system.
Full list of cities/downs
:
Addis Ababa
Adelaide
Aksu
Aktau
Algiers
Almaty
Amderma
Amman
Anadyr
Anchorage
Antananarivo
Arkhangelsk
Ashgabat
Astana
Athens
Atlanta
Atyrau
Auckland
Baghdad
Baku
Bandar Ser Begawan
Bangkok
Beijing
Beirut
Belem
Benghazi
Berlin
Bishkek
Bogota
Brasilia
Brisbane
Bucharest
Budapest
Buenos Aires
Cairo
Calgary
Cape Town
Casablanca-Rabat
Chennai
Chongqing
Christchurch
Colombo
Dakar
Dallas
Damascus
Dar es Salaam
Darwin
Denver
Doha
Dubai
Dublin
Dushanbe
Edmonton
El Aaiún/Laayoune
Fjarðabyggð
Fortaleza
Frankfurt
Glasgow
Halifax
Harbin
Havana
Havre-Saint-Pierre
Helsinki
Ho Chi Minh City
Hobart
Hong Kong
Honolulu
Jerusalem
Johannesburg
Kabul
Karachi
Khartoum-Omdurman
Kiev
Konya
Kuala Lumpur + Singapore
Kuwait City
Lagos
Lavrentiya
Lima
Lisbon
London
Los Angeles
Luanda
Madrid
Manila
Maputo
Melbourne
Mexico City
Minsk
Montreal
Moscow
Mumbai
Murmansk
Muscat
Naryan-Mar
Nekhel
new York
Nicosia
Nouakchott
Nuuk
Oslo
Ottawa
Paramaribo
Paris
Perth
Petropavlovsk-Kamchatsky
Philadelphia
Phnom Penh
Phoenix
Port Moresby
Reykjavik
Riga
Rio de Janeiro
Riyadh
Rome
Salekhard
Salvador
San Francisco
Sana'a
Santiago
Sao Paulo
Saskatoon
Seoul
Shanghai
Shenyang
St Petersburg
St. John's
Stockholm
Suva
Sydney
Taipei
Tamanrasset
Tashkent
Tbilisi
Tehran
Tokyo
Toronto
Tripoli
Tunis
Ulan Bator
Vancouver
Warsaw
Whitehorse
Winnipeg
Yangon
Yellowknife
Zurich
I'm open to suggestions and feedback