Well, there are building foundations available in TE, but no houses to place upon them.
So, I tried to make one in blender using photos of a real building.
Worked out pretty well, huh?
Attachment:
File comment: This comes directly from OGRE!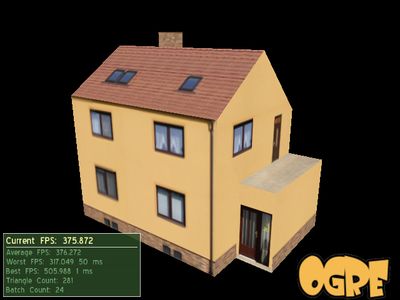 anoobis_house_mesh.jpg [ 20.77 KiB | Viewed 101261 times ]
As you can see, I also exported it to OGRE format. The attachment of this post is a self-contained zip-resource file. Just download, add it to resources.cfg and run the engine!
56 polys, all textures have power-of-two dimensions.
There's just one little issue: the scale. I don't yet know how big (in OGRE units) is a tile, so I can't scale the house properly. Need to ask Uzurpator about it.
Also, the material names are not organized, which could cause bumps between models. I'll fix it for the final version.
~An00biS