Finally some new screenshots..
Trans Advance has recently started working on a new electrified railway, a more local service. This service, known as TACSI (Trans Advance Commuter Service Initiative) started off in Trecombe Cross running to Pleford but quickly got extended to villages and smaller towns like Dunsay and Muborough. It recently got a new line to Trethaven Common as well, with a direct route Trecombe Cross to Trethaven Common. This direct line is believed to shorten the travelling time between the two cities with over 300 percent!
- - - -
The small, lovely village of Pleford. This was the first station of TACSI, and trains started arriving in 1954. They're hauled by a Metrovick EM2, the first electric train bought by Trans Advance!!
Attachment: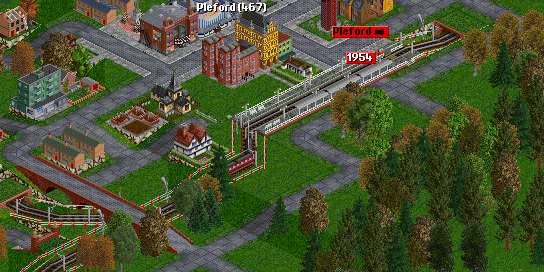 Trans Advance, 28 jul 1958#1.png [ 108.46 KiB | Viewed 22026 times ]
Trans Advance decided to extend TACSI to three new towns; Muborough, Nantshaw Ridge and Trethaven Common. After rigorious planning (after me finding a funny way to build the line), working got underway. Seen here is one of the most oddly designed junctions known to mankind. It is located south of Muborough
Attachment:
Trans Advance, 28 jul 1958.png [490.54 KiB]
Downloaded 124 times
The newest addition to the TACSI is the extension to Trethaven Common. This is the end of the circle-formed railway that forms the TACSI network. This station has yet to see trains arriving
Attachment:
Trans Advance, 28 jul 1958#2.png [ 143.72 KiB | Viewed 21992 times ]
_________________

Newest screenshots published January 9, 2019
Chrill's scenarios:
Archipiélago Hermoso
(Latest Release:

Version 3.2

)
Turnpike Falls
(Latest Release:

Version 0.91

)