Hello,
I don't realy know if anybody thought of this idea or if it already has been released, but I created the empty region.
I have seen a lot of players which were complaining that so many things were pre-selected in the game and that they weren't able to select there own bridges, stations and some other stuff they like.
Personally the most annoying thing to me with the normal region selection is that there are 15 pre-selected industries along with all of there cargo's. Say you wan't to create a completely new scenario with all sort of mods that you have (or only a few cargo's). If you must use one of the game-regions then all of the cargo's from the pre-selected industries are selected as well. But if you only wan't to use your own cargo's then you can't get rid of the already "selected" cargo's. At some point when creating a new scenario you see that annoying message that you can't select any more buildings ore industries because you are using to many cargo's even though you haven't reached the city-buildings limit or the industry-buildings limit. If you already have selected too many cargo's you will not be able to select anything else that uses some new sort of cargo-type which you wan't to use. You see it doesn't matter if you de-select an industry. Once you have selected an industry and already started building a map it's cargo's will be selected as well, and there's no way to de-select the cargo's. So if you have reached the cargo-limit even though you will not use some of the "selected" cargo's because you changed your mind on using a certain industry then you will have a problem. Now you can start building a map without de-selecting all of the pre-selected objects (which is already time-consuming to de-select everything that Chris Sawyer pre-selected)...
With this file a newly build scenario uses only the cargo's that you wan't to use and you will only start with one cargo (Passengers).
There are however a few things I can't take out like this line, because if I do Locotool doesn't save the XML.file:
<useobject desc="cargo" class="8">PASS </useobject>
Because of this line needs to be in the XML.file, some of the things will be selected but they can be turn of easy with this region. The only things that you find pre-selected are some fences, the Train-Tracks (overhead wires, electric 3rd rail, some trains-tations), Tram-Tracks (overhead wires and some tram-stations) and some bridges. However, all of these pre-selected things can be un-selected. In the screen below you can see what i mean: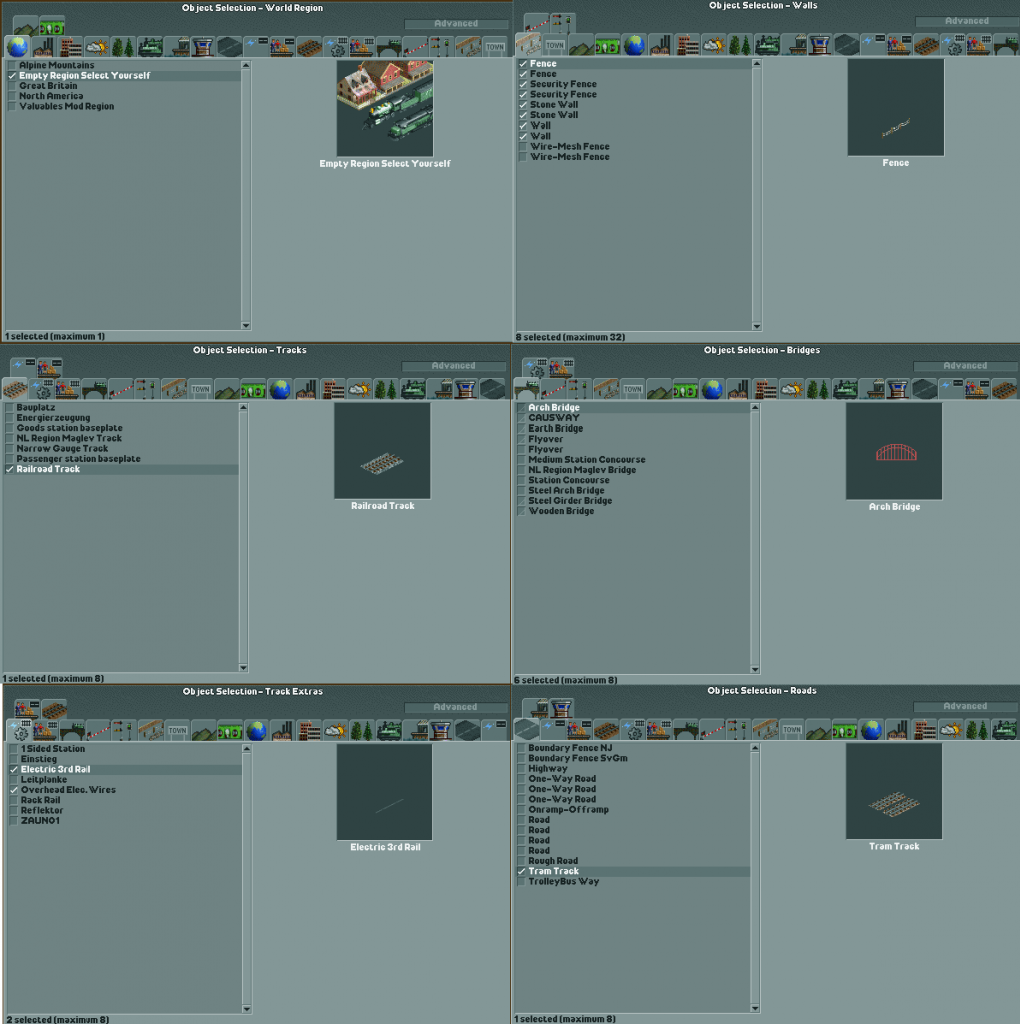 As you can see all of these files can be un-selected, I know the bridges are not, but if you de-select the train- and tram-tracks (which will use the selected bridges because they are in the ROADTRAM.DAT and the TRACKST.DAT) they can be de-selected and then you will have a completely empty region with no vehicles, tracks, bridges, industries, citybuildings, cargo's or roads selected.
I hope you people can use this...
If there's anything wrong or if there are any questions please ask.
Here's the file: Regards,
Erik

(By the way, if somebody creates a completetly new scenario with the empty region file you can include this file without asking permission to use it, it would be nice if my name is mentioned for the empty region but when you release the scenario this file can freely be included. Permission is hereby granted to everyone who needs it

)