adf88 wrote:
SquireJames wrote:
Sure that is what the convert railtype button is for
Did you read my post?
Never late to say sorry. Sorry - it was mean.
I wanted to summarize everything. The issue can be split into two related ones.
1. The design of the rail tools is wrong. It can lead to mistakes when placing tracks. Rules about combining* tracks are not straightforward - they are different when crossing and different when overbuilding tracks. The fact that crossing-over "works" (track types get combined) encourages to think that it will also "work" when overbuilding.
* The combining occurs when one track is being crossed over or overbuilt by another track but with different track type. In the first case (crossing over) new track type is chosen if it's not less compatible then the old track type, otherwise the old track type is preserved. In the second case (overbuilding) always the old track type is preserved.
Attachment:
File comment: Since A "works", one may think that B should "work" too.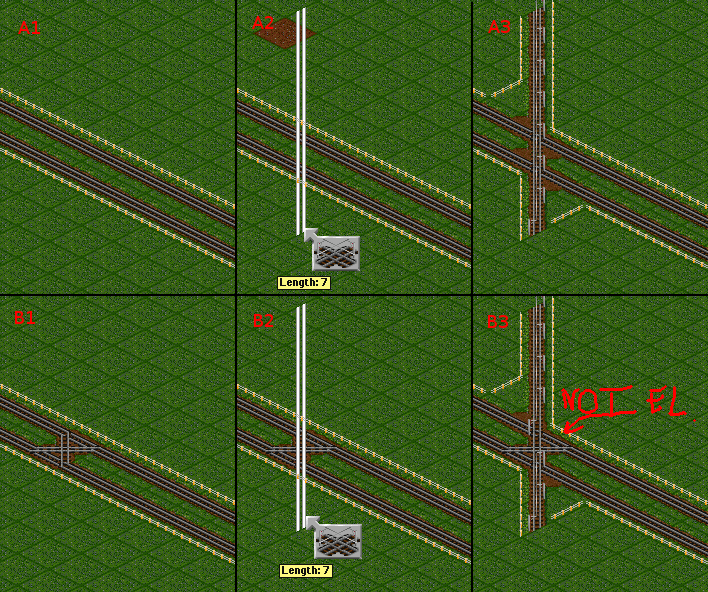 w.png [ 108.62 KiB | Viewed 622 times ]
2. There is almost no visual indication of the situation where a rail track was placed but some parts in the middle of it wasn't turned into compatible railtype e.g. when placing an electrified track, some parts in the middle may left non-electrified and the user is not notified about the fact.
Usually, when placing a track and there is an obstacle, the track stops on this obstacle. It gives a visual feedback - we can easily see that not entire track was placed. It's like different when overbuilding another tracks, they get placed anyway, it's like the obstacles were silently skipped:
Attachment:
File comment: Almost no visual indication, easy to miss.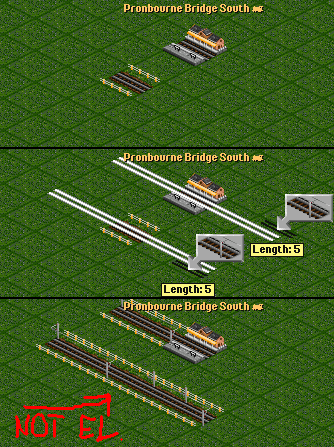 ttc.png [ 39.8 KiB | Viewed 622 times ]
Also notice that "combining" is not the same as "converting". If we would unify the rules of the combining in a way that I proposed, the rail conversion tool wouldn't get obsolete. It's for massive, aerial converting of tracks to a single type. The track tool would become better in precise mixing of tracks of different types.
I agree on that the proposed changes would make the tools to interfere more and that this is a bad thing about interfaces in general. But a bit of interference doesn't have to be wrong, especially when it resolves other issues.
There is also a related FS ticket about stations:
http://bugs.openttd.org/task/6590