Here are the current solutions to the best system for bigger/longer depots, long trains, forbidding 90 degree turns, and depot through-put found in this thread... Keep posting new designs here...
All examples here are for 7-tile trains (approx. 14-units including engine)...
To adapt to different train lengths all you need to do is uniformly, and linearly, expand/contract all 7-tile distances of track or depot to the train-tile-length you require whilst keeping the track connections/points system the same...
The BEST DESIGN that comprises of all the above, in my opinion at least, is here...
https://www.tt-forums.net/download/file.php?id=105813
1) Updated Advanced Depot
, with space for long trains to accelerate whilst entering/exiting the main-line, also permissive of "forbid 90 degree turns"
UPDATE: Now with Train Priority
Signals are as follows...
A) Entry Pre-Signal (One way, on to main-line)
B) Combo Pre-Signal (Two Way)
C) Exit Pre-Signal (Two Way)
If a train is in the blocks preceding Signals B and C, Signal A will be RED until they are clear, this means that trains on the main-line will always get to pass first before a train leaves the depot area

2) A design based on Ostlandr's "wye-track"
to allow up to two trains to enter/exit a line at once
https://www.tt-forums.net/download/file.php?id=105014
3, 4 + 5) Updates of the simple station to allow for long trains and fast speeds on/off track
, also permissive of "forbid 90 degree turns"
[3+4]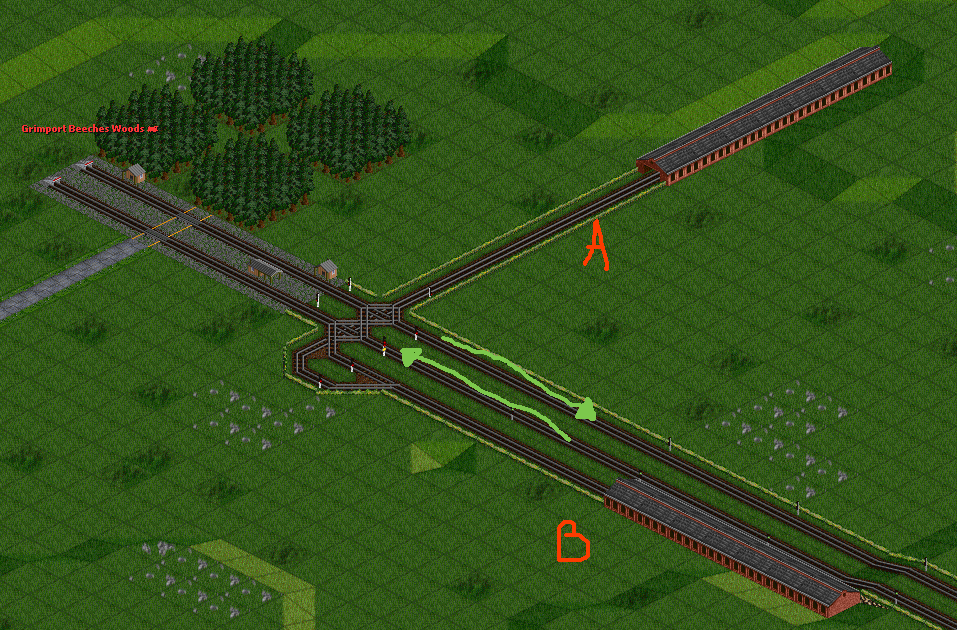 [5]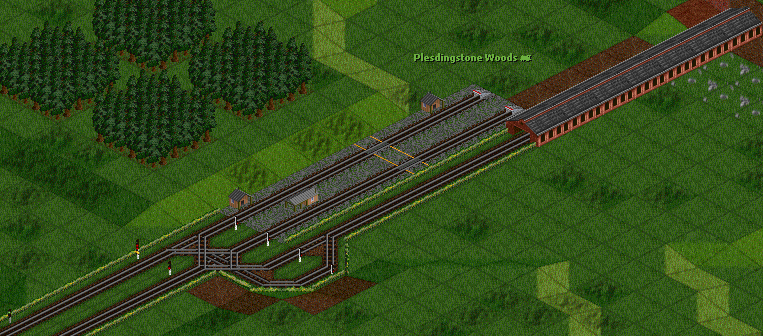 6 + 7) Designs based on Phil88's work
, also permissive of "forbid 90 degree turns"
[6]
[7]
8 + 9) Designs based on FooBar's designs for multiple train servicing with minimum disruption to a mainline
, also permissive of "forbid 90 degree turns"
[8]
[9]
[9]
10) Hybrid design based on FooBar's work by myself to minimise space consumption
#ORIGINAL POST#
Just need some help improving the depot system I've used for ages (since plain old TTD in fact in some form) in OpenTTD... Please find attached...

EDIT: FILES REMOVED

Now looking at the numbered screenshot of the system I already use...

Trains enter the service area from the direction indicated by the RED arrows, i never use compulsory servicing unless i really need to, so if a train is not in need of service it inherently passes through on the central two tracks (the main-line)... But not always... So this is one problem that needs solving...

If a train requires servicing it (depending on direction) will enter area 1 or 4 (indicated by yellow number), which i always make as long as the maximum train size on my network in case a train needing a service needs to wait for another train to leave a depot... In this instance the maximum train size is 7 tiles (approx. 14-units)...

I also have another area, 2 or 4, for trains leaving the depot to wait to re-join the line, which allows the next cued train in area 1 or 4 to enter the depot whilst the train in area 2 or 4 waits... This stops the majority of main-line lock ups or slowdowns due to trains entering or exiting the depot at approx 38mph...

Now I know this can be improved, but I'm unsure as to how, I have been using PBS signalling at stations and junctions for a while now, and I've used pre-signals before that, but never went to improve the depot system I used until I knew PBS was definitely going to make it to trunk or not... This is why the signals are still the traditional TTD type...

So in short I'd be grateful for any posts with improvements, the only requirements I really have are that the new system is no wider in terms of tracks if possible (so 6-8 tiles in this case) and allows me to build the "bigger depots" as per the screenshot, it would be also nice to retain the 7-tile waiting areas if these would still be required to not slow down trains passing through on the mainline as my networks are inherently very,very, busy (typically 2000+ engines on a 1024x1024 map, the screenshot is from a "quiet" bit) and I really can't have trains waiting whilst other trains go for servicing...

Oh, and a final note, i always forbid trains from turning 90 degree angles (hence the odd tracks on the outside of the screenshot entering the depot) so a solution that took this into consideration would be great

Many thanks

Jacob
The depot graphics btw were originally by Snorbuckle and i have re-coded them here https://www.tt-forums.net/viewtopic.php?f=36&t=40577 ... They are part of a much larger and on-going project to build depots in a similar manner to stations (or even as part of station areas) and add bi-directionality, and multiplexing amongst other improvements...