SHARK ate SQUID ate FISH
FISH has given us over a decade of service and I thought it's time it was updated.
It's been a staple in every single one of my games since it was introduced over a decade ago. Then Squid came along with more polish and new features, but with the unfortunate removal of things such as vehicle ferries and river barges. Then redFISH came along and tried to fix this but brought problems of its own. Now Squid/FISH remained abandoned and I decided to take a look at it, thus SHARK was born.
SHARK is based on the code of Squid, but thanks to its modular code it's quite easy to expand it. And thanks to FISH's turbulent history there were plenty of unused and unfinished graphics to reuse and improve upon. SHARK re-introduces the old FISH fleet as well as a variety of ships from unreleased development builds, including the Danube roster and early builds of Unsinkable Sam.
Hope you enjoy, and please post any bugs, suggestions, or contributions here.

The Fleet: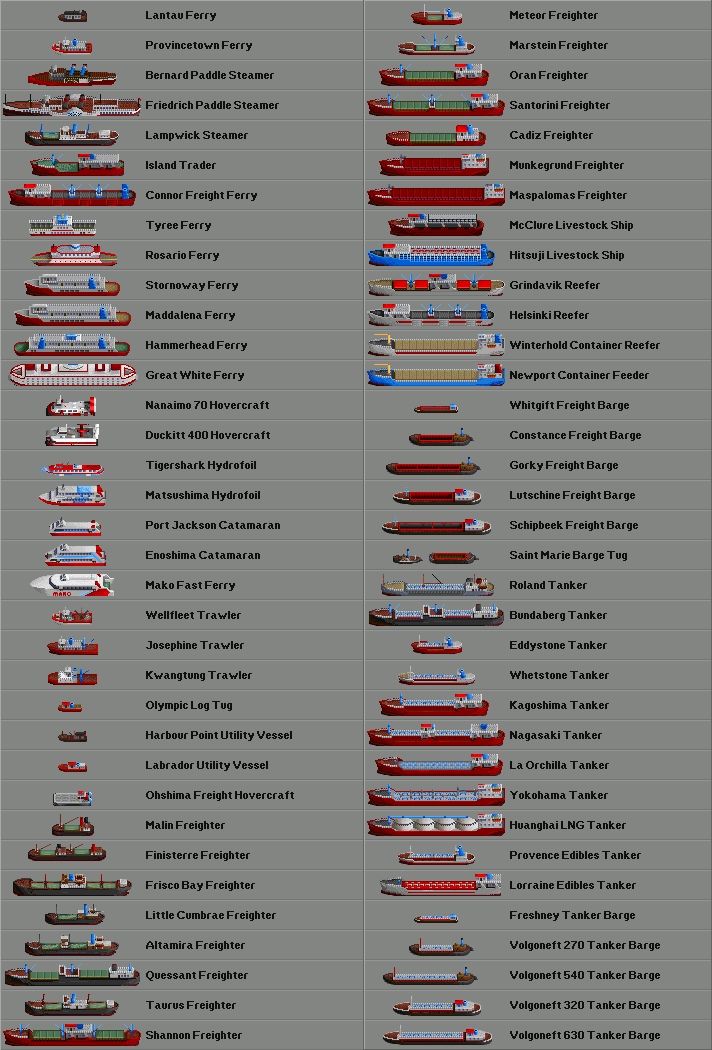 Features:
70 ships, with more to come in the future!
1850-2008 year range
New and never-before-seen sprites
All the features of Squid including animated wakes, smoke puffs, loading stages and variable speeds
Known Issues:
Some graphics are temporary and will be improved
More ships planned (including ocean liners and tow barges)
Some misalignments in buy menu and smoke effects
Costs, intro dates and stats may need further tweaking
Translations might be slightly wrong (but I didn't change much)
Credits:
Andythenorth, for making a great ship set with modular code that is easy to edit
Andythenorth, Coxx, DanMack, Emperor Jake, lead@inbox and Pikkabird for contributing sprites (let me know if I missed anyone!)
Emperor Jake, for compiling it all

The source code can be found on Github:
https://github.com/EmperorJake/SHARK

The GRF can be downloaded on Bananas right now!
https://bananas.openttd.org/package/newgrf/4a44bbb1