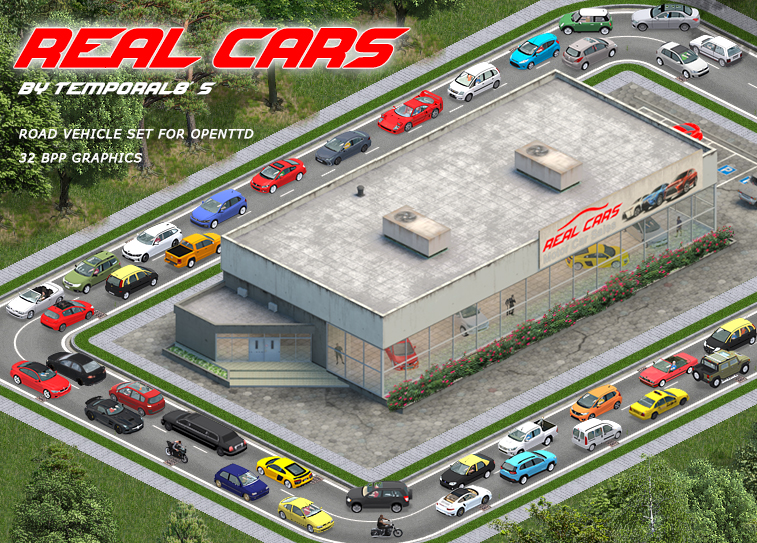 VERSION 1.0 REAL CARS RELEASED, DOWNLOAD HERE:
viewtopic.php?p=1249250#p1249250
Hello friends, I always liked cars so I started to make a set of vehicles in 32bpp, the idea is to make a set of 10 or 15 cars in principle, later we will see ...
At the moment the set has only 4 vehicles:
- Honda Civic SI.
- Jeep Cherokee.
- Porsche 911 Turbo S.
- Toyota Hilux pickup.
f you want you can suggest a car to add and I will include it in a list to take into account, either for this set or a later one, for now I have to keep working on the graphics and then it will be time to start editing the specifications for weight, speed and more.
I handle the graphics part without problems but I had to learn NFO Coding, so I want to thank Maquinista, Zephyris, Wallyweb, Emperor Jake and the Transport Tycoon Wiki since their contributions, explanations and help have helped me to learn and make this possible.
19/10/2020 Update:
I have decided to design some more graphics, although the original idea was simply to make a set of cars in 32 bpp, I think that in an 8bpp environment they would look weird if they are alone, so it seems a better idea to make a few more graphics at 32bpp.
At the moment I modeled a car dealership, some parking lots and a few days ago a few residential houses that I am currently working on.