Hi
I wanna to show here our complete graphics replacement. Our plan is to replace all base graphics, try to redraw FIRS industry graphics and draw vehicles what will support this industry. All is based on Czech Republic enviroment.
Attachment: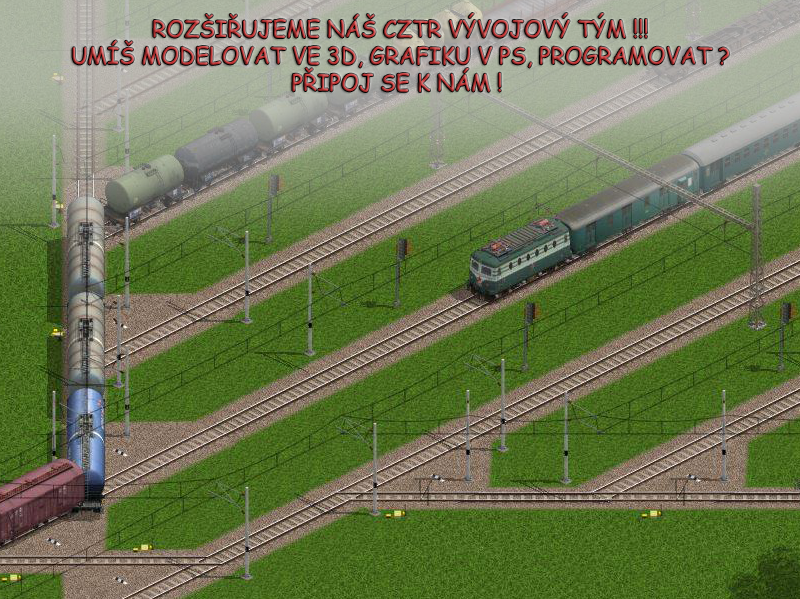 reklama_tym.png [ 849.99 KiB | Viewed 6524 times ]
Our FB page!
https://www.facebook.com/OTTD-Czech-realistic-replacement-1978368325710456/
Sets available on Bananas (ingame download)
CZTR Road set
1.0.0 - Base set of Czech roads. Include roads, crossroads, storages, bus stops, tunnels, depot, one-way roads. Bridges, crossings and vehicles will be attached in other sets.
1.0.1 - Tunnel changes.
CZTR Trees
1.0.0 - Set of the trees for temperate climate.
In progress:
1.0.1 - Preparing to make softer shadows.
CZTR Bus set
0.9.0 - Set of buses from Czech republic. (BETA - sound testing)
CZTR Ground set
1.0.0 - Set of the ground sprites,rivers,fields,walls and other graphics for template climate.
In progress:
1.0.1 - Some graphics changes.
CZTR Tram set
1.0.0 - Set of the Czech trams + tram rails in 32bpp with extrazoom.
1.0.1 - Graphics mistakes removed.
Sets available for testing (not available on Bananas)
CZTR Truck set
0.9.0 - Set of trucks from Czech republic. (BETA)
CZTR Rail set
0.9.0 - Set of rails from Czech republic. (BETA)
CZTR Train set - Engines
0.9.0 - Set of trains from Czech republic. (BETA)
CZTR Train set - Wagons
0.9.0 - Set of trains from Czech republic. (BETA)
CZTR Train set - EMU
0.9.0 - Set of trains from Czech republic. (BETA)
CZTR Ground set
1.0.1 - Set of ground sprites - graphics changes test (BETA)
CZTR Effects
0.9.0 - Set of effects for OTTD (BETA)