Qatenary
My favourite catenary used to be the Dutch Catenary, however I felt that it looked a bit too big compared to the scale of stations and trains.....
Also I was a bit unhappy with the way catenary looks in OpenTTD, I missed something.... Like two pylons on either side of a track with a crossbeam over the track.
I experimented a lot and finally came up with this idea:
Attachment: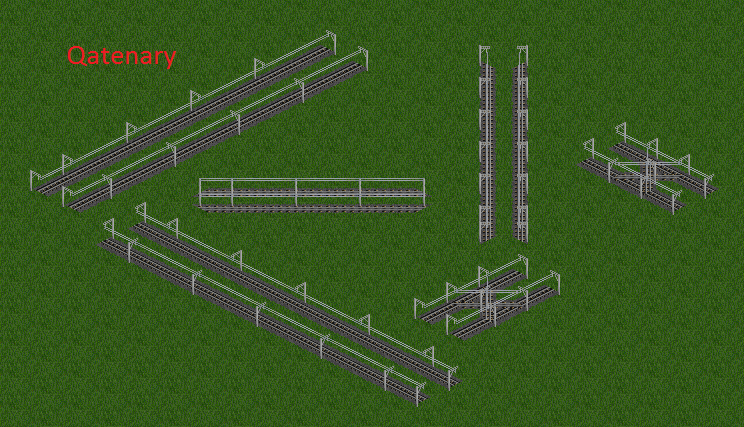 Qatenary01.png [ 79.35 KiB | Viewed 3688 times ]
A new catenary design, that works on its own, but combined with extra graphics provided by Waypoints (included in the GRF), you can come up with things like this:
Attachment: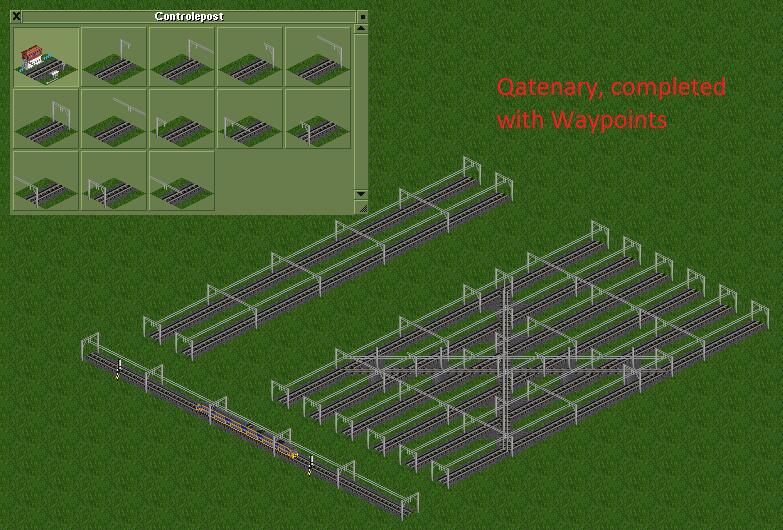 Qatenary02.png [ 101.58 KiB | Viewed 3688 times ]
Hope you like it!

GRF can be found on the ingame downloadsection (BaNaNas)
License: GPLv2
Credits:
Idea and Coding by Quast65
Graphics by Quast65
Many thanks to other catenary developers, their drawings helped me a lot with developing this idea.
Many thanks to GarryG, his work on fake sidings inspired me to impliment this idea into an actual GRF.
Sources:
Attachment:
qatenary_v0.1_SOURCES.rar [31.57 KiB]
Downloaded 86 times
Enjoy!!!

_________________
Projects: viewtopic.php?f=26&t=57266
Screenshots: viewtopic.php?f=47&t=56959
Winner of the following screenshot competitions:
sep 2012
,
jan 2013
,
apr 2013
,
aug 2013
,
mar 2014
,
mar 2016
All my work is released under GPL-license (either V2 or V3), if not clearly stated otherwise.