There is lack of slow but cheap narrow gauge sets publicly available, not counting Serbian or Japan sets which are rather mainline sets, and existing narrow gauge tracks are not so cheap.
Main assumption of 600mm narrow gauge set is to provide cheap solution (especially infrastructure maintenance) for games with hard settings/high base costs, for easy company startups, local transport solutions, industrial supply distribution etc.
Thanks to andythenorth courtesy, I used HEQS steam locomotives and freight cars. I focused on prototypes build in Germany, they worked in many other countries. I also added two types of passenger cars and one mail/passenger car with option to rebuild into diesel railcar.
Rolling stock have 3 livery options and is fully autorefittable.
Because typical narrow gauge track are too wide for HEQS rolling stock (and too expensive), I decided to add dedicated tracktype 'ng60', which look similar to tram tracks and its costs are balanced to set low speeds overall and capacities.
Attachment:
File comment: 600mm narrow gauge trains and original HEQS industrial trams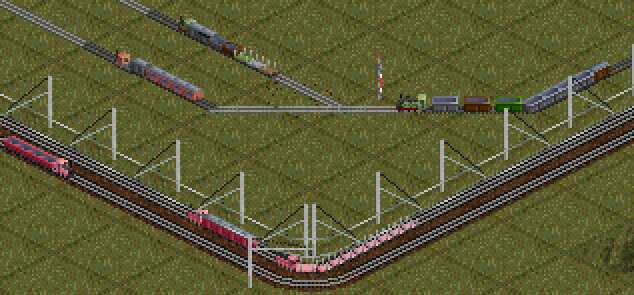 ng600snapshot.png [ 47.98 KiB | Viewed 9224 times ]
600mm Narrow Gauge set is available on bananas on-line content service.
Source code is hosted by
http://dev.openttdcoop.org/projects/ng600
PS. Todo list: add diesel locomotive and horses.
Not planned: electric locomotives.
_________________
My experimental openTTD server: 149.156.194.203:3979 non-standard client, now testing: JGRPP
http://tiny.pl/ggnch
Projects:
Reproducible Map Generation patch
, NewGRFs: Manpower industries, PolTrams, Polroad, 600mm narrow gauge, preindustrial houses, wired, ECS industry extension,
V4 CEE train set
.
Addicted to freeciv longturn.