Finally version 2.0 - refit scheme for general trucks/semi-trailers was totally rewritten.
I decided to abandon idea with partially available refit and body view depending on already refitted cargo class.
It was too much erroneous.
Instead of this, different subtype can be defined during refit, for example box, flat, mail van, tanker, reefer etc.
Station autorefit is available for each subtype, albeit some cargoes capacity are zeroed - obviously you cannot transport wood logs inside tanker.
You can set order to refit, but resulting capacity would be 0, therefore vehicle will be not stuck due to erroneous full load order.
Different subtypes have different properties. The most common is first one, box with optional tarpaulin/curtains - it can carry every kind of cargo,
but capacity is sometimes reduced.
Other subtypes offer higher capacity for limited cargo classes set.
Here is example, how it works:
Attachment:
File comment: refit polroad v.2.0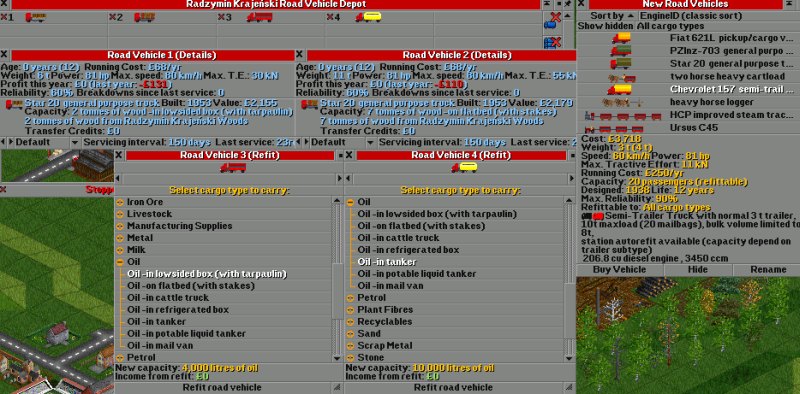 polroad-refit2.jpg [ 104.31 KiB | Viewed 7372 times ]
Wood can be transported in universal low-sided box, but higher amount fit into flatbed with stakes.
Oil can be transported in tanker, or (smaller amount) in barrels loaded into universal low-sided box.
Reefer body/trailer decrease decay of cargo aging.
Teaser version is located in files section:
http://dev.openttdcoop.org/projects/polroad/files
Project is now open for translations.
_________________
My experimental openTTD server: 149.156.194.203:3979 non-standard client, now testing: JGRPP
http://tiny.pl/ggnch
Projects:
Reproducible Map Generation patch
, NewGRFs: Manpower industries, PolTrams, Polroad, 600mm narrow gauge, preindustrial houses, wired, ECS industry extension,
V4 CEE train set
.
Addicted to freeciv longturn.