In this thread I would like to present some development snapshots of new
polroad newgrf
, which is continuation of Polish Road Set created by Sojita by means of grfmaker.
This newgrf is created in NML under GPL2 licence and is intended to include wide range of popular road vehicles, which real prototypes are/were produced/assembled in Poland, or imported and used in Poland. Set should be compatible temperate, arctic and tropical climate, as well as with custom industry sets (FIRS, ECS and others).
EDIT:
Currently urban, local and intercity buses as well as vans, minibuses, trucks and tractors are presented, including horse carriages, articulated or not: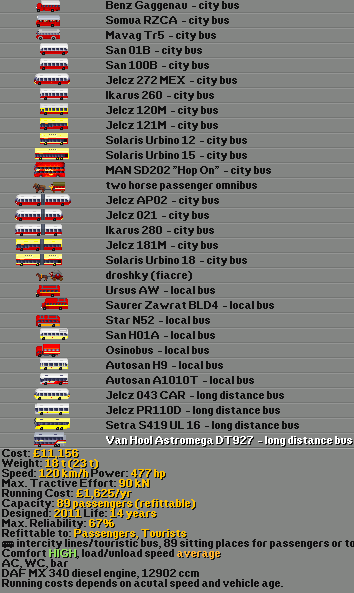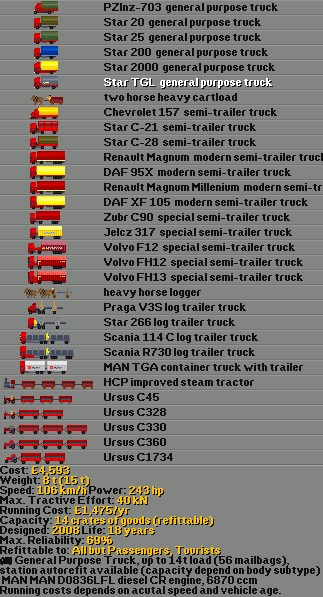 Snapshots
are downloadable from
http://dev.openttdcoop.org/projects/polroad/files
and stable versions is available via on-line content.
Tracking table
with planned and implemented vehicles is available here:
https://docs.google.com/spreadsheets/d/ ... sp=sharing
Some important notes:
General purposes trucks and semi-trailer tractors are intended to carry ANY available cargo. I don't like huge list and frequent advertisements of different RV subtypes, instead of this, you can buy engine with chassis and pay coachbuilder additional fee for refitting to appropriate body (in case of integrated trucks) or pay maintenance fee for changing semi-trailers.
Currently I'm using special GEAR cargo to distinguish between refitted/not refitted truck or tractor unit with/without semi-trailer. I'm aware that it is not good feature - if you encounter any problems or interference with industry newgrf, please pull polroad newgrf beyond industry newgrf. In this case, GEAR will be overwritten by industry cargo slot. Another known problem is RCG game script which does not recognize GEAR cargo as valid one. In future I will replace GEAR by other mechanism.
EDIT: GEAR removed, cargo subtype is used instead.
Trucks and semi-trailers have different types of body for different cargo subtypes. Refitting between different body types is possible only in depot and additional fee must be payed. Refitting without change of body is free of charge and can be done at the station.
Cargo refit scheme is presented on the "openttd refit scheme" sheet included in tracking table google spreadsheet linked above.
Instead of standard openttd cargo capacity conversion,

cargo weight

and maximal

vehicle load

is used to calculate refitted capacity.
For example, truck with 5 t maxload can carry:

8 crates of FIRS engineering supplies, etc.

There were two reasons of such feature: predetermine RVs (especially early one) to carry smallwares, whereas trains are better for bulks, and keep loaded RV weight constant regardless of cargo unit weight.
Because real maxloads are small compared to openttd needs, by default these maxloads are doubled, for example instead of 5 t, truck can carry 10 t.It There is newgrf parameter responsible for setting maxload to real one, doubled or tripled, however tripled one must to be used with caution, especially if realistic acceleration and sharp slope are involved.
RVs are sorted into following

groups:




van/minibus - can carry mail, can be refitted to passengers, mail or CC_EXPRESS, CC_ARMOURED cargo class

pickup/cargo van - can carry goods, can be refitted to passengers, mail, CC_ARMOURED or CC_PIECE_GOODS (excluding WOOD, WDPR and CC_OVERSIZED) cargo class

general purpose truck - need to be refitted before departure, can be refitted to all cargo classes except CC_PASSENGERS

semi-trailer truck - can carry goods, can be refitted to all cargo classes except CC_ARMOURED and CC_PASSENGERS, body refit scheme as for general cargo truck

log trailer truck - specialized vehicle, can carry WOOD

special semi-trailer truck - can carry goods, can be refitted to all cargo classes except WOOD, CC_ARMOURED and CC_PASSENGERS. Semitrailers have increased capacity and load/unload speed at the expense of narrowed possibility of free refit (less universal than for standard semi-trailer truck)

farm tractors - slow vehicle, but can carry up to 40 tons of CC_BULK class, or some livestock, passengers or CC_OVERSIZED, with autorefit option

Besides those groups, there is single GMC CCKW truck, which can carry any cargo, including passengers, with autorefit option. These ex-US Army truck were widely used in post-war Poland, including regular passenger services
Some vehicles can carry both passengers or cargo with autorefit option, which is sometimes convenient and gives opportunity to reduce empty runs, however, to avoid warning messages and autoreplace problems, every scheduled stops need to be a multi-stops (cargo+passenger stations).
Because bulk cargo is recolored to avoid huge number of sprites, it is not possible to support all combination of bulk and company colors.
Project is using its own pseudo-2cc color scheme. Second company color (used for some tarpaulins, stakes and some other details) depend on first color, for example GREEN/GRAY, DARK GREEN/BROWN, BLUE/YELLOW etc.
First color hue differs slightly from original ones, to avoid "unreal" colors like for example pink
Image below is an example of normal semi-trailer truck and specialized semi-trailer truck refitted to different FIRS cargoes: EDIT: Project is open for translation now.
If you found any grammar or terminology errors please do not hesitate to ask me for correction.