While working on another GRF I noticed that I made some mistakes with the graphics for an older GRF I made, that changes the default traintunnel into one with the UK road on top, so that tunnels look better in an urban environment.
I have now corrected those mistakes and also added two more versions, one with TTRS-roads and one with OpenGFX roads on top.
They can be set via parameter.
The roads are eyecandy, roadvehicles will not drive over them!!
Looks like this:
Attachment:
OpenGFXroad.png [ 46.92 KiB | Viewed 6002 times ]
Attachment:
TTRSroad.png [ 45.94 KiB | Viewed 6002 times ]
Attachment: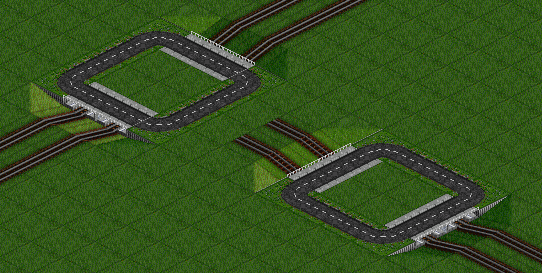 UKroad.png [ 43.8 KiB | Viewed 6002 times ]
In some connections to the road with the tunnel strange lines can be seen. This is caused by the way foundations are drawn.
License: GPLv2
Credits:
-Special thanks to:
Red*Star (platform inside tunnel)
Born Acorn (UK road)
Zimmlock (TTRS road)
The developers of the Japan Set (tunnel sides and fence)
for the kind permission to use their graphics under GPLv2 license
-The developers of the OpenGFX-set (GPLv2)
-Modifications to graphics and code by Quast65 (GPLv2)
The GRF can be found here:
And on the online content downloader (Bananas)
_________________
Projects: viewtopic.php?f=26&t=57266
Screenshots: viewtopic.php?f=47&t=56959
Winner of the following screenshot competitions:
sep 2012
,
jan 2013
,
apr 2013
,
aug 2013
,
mar 2014
,
mar 2016
All my work is released under GPL-license (either V2 or V3), if not clearly stated otherwise.