31 March 2014
I disappeared about a year ago due to crazy life events, and then posted a month or so ago that I wouldn't be finishing this. Well, the funny thing about having an infant is that you are up at ridiculous times of night and you sometimes get time on your hands. So, no promises on fully finishing, but I can at least state some incremental progress.
This is a modification of the industries in the toyland world to match the graphics in the Toyland to Mars conversion done by George (I don't actually know his last name). This Mars is more of a Jules Verne or Steampunk version of the planet, but its goofy fun.
This grf requires George's Toyland to
Mars Conversion
(
download page
) be loaded first.
source code (may not be up to date right away):
https://github.com/oftcrash/martian-industries
Build: 453
Attachment:
File comment: Martian Industries Build 453
martian-industries.zip [10 KiB]
Downloaded 209 times
Like a fine wine, I also recommend Martian Town Names to compliment Martian Industries.
Attachment:
File comment: Martian Names
martian_names.grf [4.94 KiB]
Downloaded 176 times
Minor fixes to ensure production of all cargos so it is at least playable.
To Do:
[list]
[*]industry animations
[*]Add in error message requiring Toyland to Mars
[*]Refine Cargos (maybe)
[*]Refine Industries (looking for feedback on balance)
[*]Change the Xeno-Arboretum trees to local flora.
Attachment: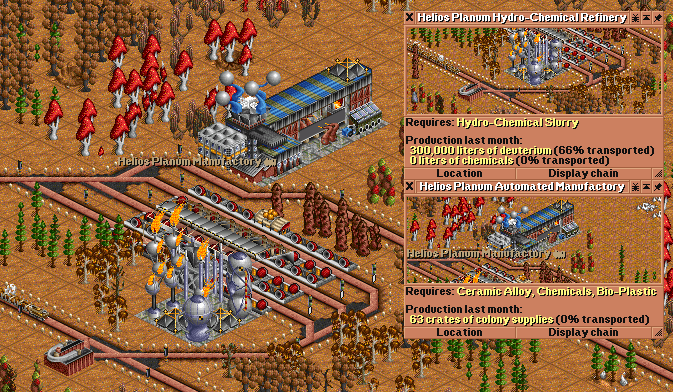 Martian-Industry.png [ 77.85 KiB | Viewed 7928 times ]