Great Brenfingbridge Springs, 2020.
"Have you seen it? There's smoke... and steam... coming from the abandoned Timberwolfean Voxel Mines."
"The Voxel Mines? Isn't that where we had all that trouble with the road vehicles a few years ago?"
"Yes. Except this looks... bigger. Even down here I can hear clanking and clonking. And I swear once or twice I even heard
chuffing
."
I've decided to make a train set.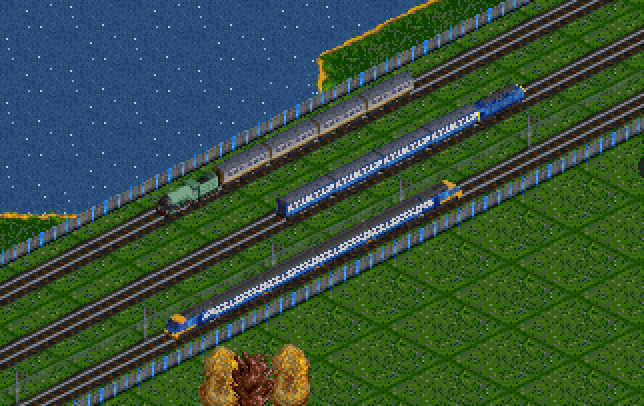 Let's try that again. I've decided to make a
train set
.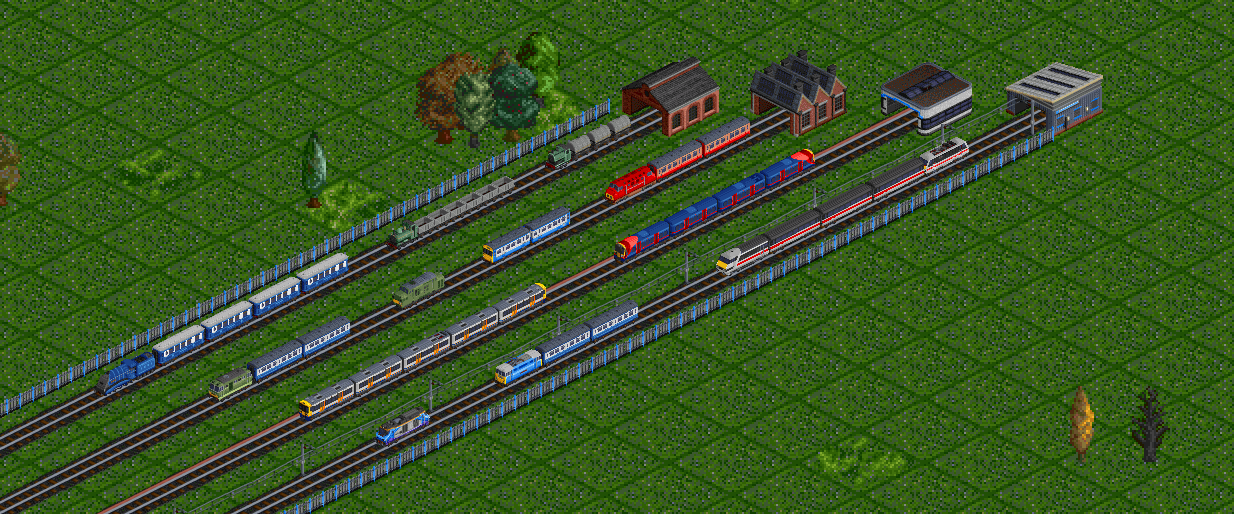 Yes, I've decided to ignore the last 10 years of discussions about Bad Features, pay no attention to the dozen other UK or UK-inspired sets already in existence, and have a go at breaking pretty much every OpenTTD sprite-drawing rule going in pursuit of
graphical glitches
pushing the limits of what's possible with the old game engine. Even in this unfinished state, it's clear the roster is a mad hodgepodge of things put together with little rhyme or gameplay reason - cobbling together random things I liked, bizarre prototypes, trains I spent too much time commuting on and whatever else I could find in a forgotten corner of Woodham Brothers' scrapyard.
But why another UK set? There have been so many great ones: the classic UKRS and UKRS2, BRTrains for a huge selection of post-1950 rolling stock, and RUKTS for modern outline. UKRS3 for beautiful 2x sprites. (And you could possibly count the fantastic Iron Horse for UK-inspired but with the gameplay rhyme and reason that's lacking in BR's long and twisting history). I've almost certainly missed a whole load. But even so, I find that all the UK games we play in our group are still using UKRS2 with a few addons to nerf the game-dominating EE1 and make livestock wagons a bit faster.
This is because there was nothing that for me ticked
all
the boxes. Which is the ability to start a game in the mid-1800s and be constantly bombarded with new models of train all the way to the current day. To build all the crazy prototypes and envisage an alternative history in which the Western Region was not resoundingly punished for daring to dabble in the ways of the diesel-hydraulic. To zoom in and watch trains going about their business in 2x extra-zoom loveliness. And finally while we're at it, to use the CETS long vehicle and 24 rotation sprite scheme, which looks fantastic in motion and awful in screenshots

Of course, with trains in 2x they also need tracks to run on, so I'm putting one of those together too. You can see some of the progress in the screenshot, including what I call the "Art Depot". (I'm using Surbiton Station as my excuse for this being remotely prototypical)
If you want it and it doesn't exist, then the best thing to do is create it. I'm about this far in: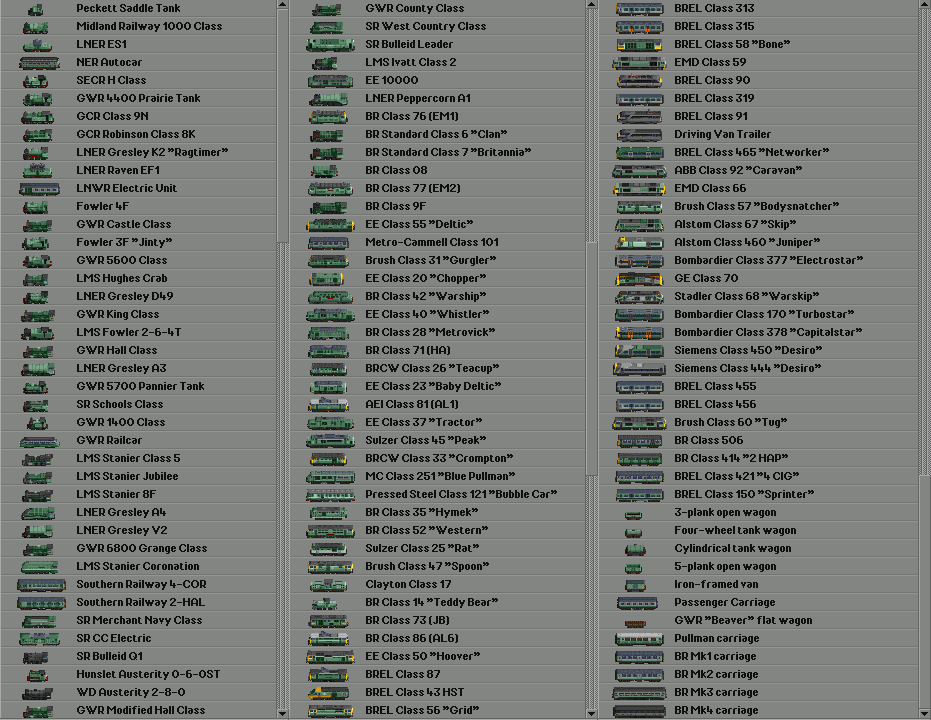 Suggestions of what to add, advice on doing crazy things with 12-length vehicles and jeers of "ew, extra zoom" gratefully received. My current plan is to keep spriting until I'm able to put together a beta that has a spread of locomotives, multiple units and wagons from 1900 to about 2015 or so and see how many screenshots of overlong vehicles clipping through bridges or having weird alignment issues mid-corner I can gather. In the meantime, updates will go here.