When playing a large game, I often have many vehicles ply the same route (using the "shared orders" feature, multiple vehicles can have the same route), and it is more important to know where each
route
goes, instead of where each vehicle goes. This is especially so when playing with cargodist, because large hub stations often have >100 vehicles and >10 routes. Hence, a user interface that focuses on routes instead of individual vehicles would place focus on the information that is important to me.
Here's an example set-up to give context: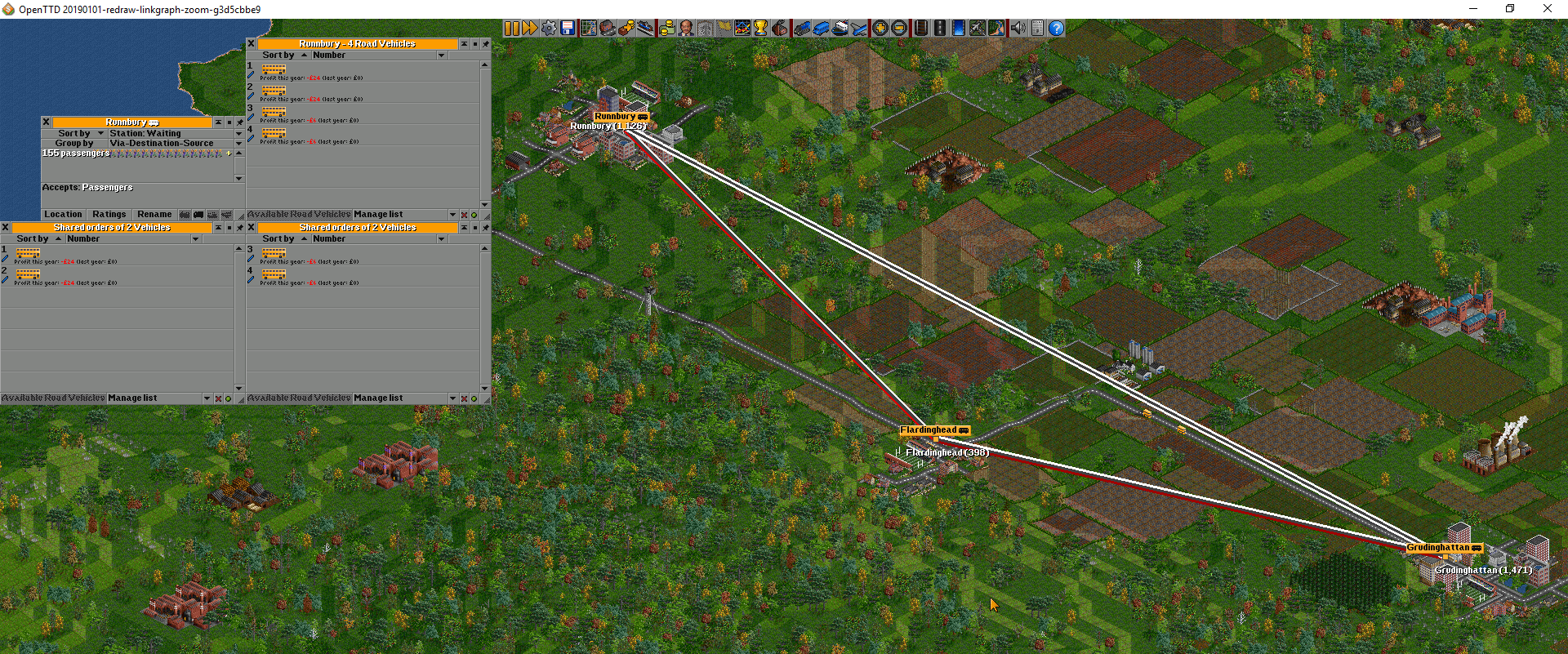 Vehicles 1 and 2 share orders: Runnbury <--> Flardinghead <--> Grudinghattan
Vehicles 3 and 4 share orders: Runnbury <--> Grudinghattan
________________
My suggestion comes in two parts:
Part 1
: In the window that shows the list of vehicles (i.e. "Runnbury - 4 Road Vehicles"), there should be a way to group the vehicles by shared orders (using a drop-down), so that there are only two items in the list (each item represents a route). Clicking on an item will open the corresponding shared orders vehicle list (i.e. "Shared orders of 2 Vehicles"). Furthermore OpenTTD should remember the drop-down option, just like the "Group By: Via-Destination-Source" option in the station window. So it would look something like this (pardon the font and alignment issues because this is an MS Paint job):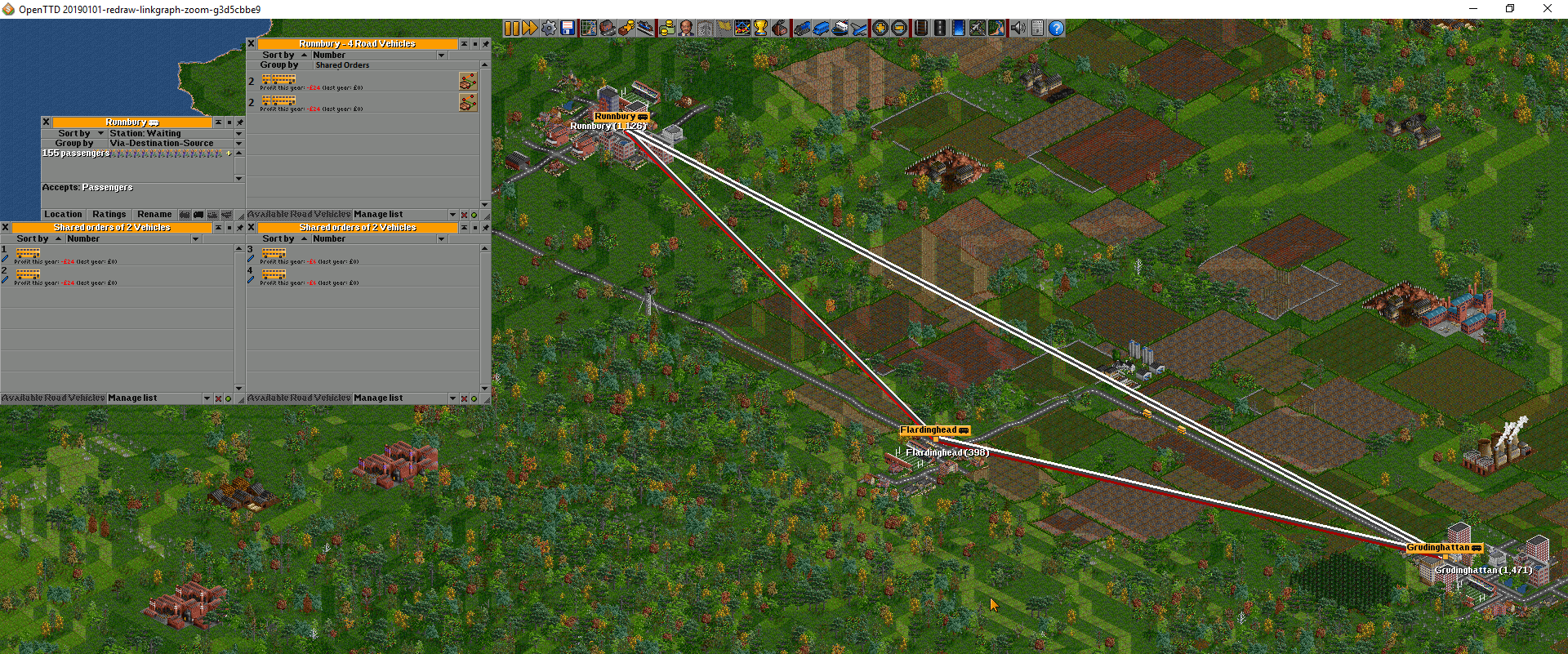 Part 2
: When the list of vehicles is set to group by shared orders (but maybe also when in the ungrouped view), there should be a button that will display the route visually on the main map (in the same style as the cargodist linkgraph, but only that particular route is displayed). (Probably the button should be the kind that will stay down when clicked, and will only go up again when another button is pressed down. Something like a checkbox that is styled like a button.)
________________
While writing this post, I realised I asked about part 1 on this forum 7 years ago (
viewtopic.php?f=32&t=62361
), but with a focus on named vehicle groups. However, the current suggestion is focused on (shared) orders, which are characterised solely by whether vehicles are using the "shared orders" feature. When using (shared) orders (instead of vehicle groups), part 2 makes more sense (like a single train route on a metro map).
I've also read this post (
viewtopic.php?f=33&t=11431
). It's over ten years old, so I didn't attempt to compile their patches. But from the discussion, it looks like they're responsible for the window that says "Shared orders of 2 Vehicles", and the vehicle grouping system. It isn't a replacement for what I am proposing.
________________
How much community interest is there in such a feature? Is there something like this already being worked on? If there is community interest and the OpenTTD maintainers think this feature is useful, I can try to implement this feature (no deadlines or guarantees though).