The shading of the vehicle is still incorrect:
Attachment: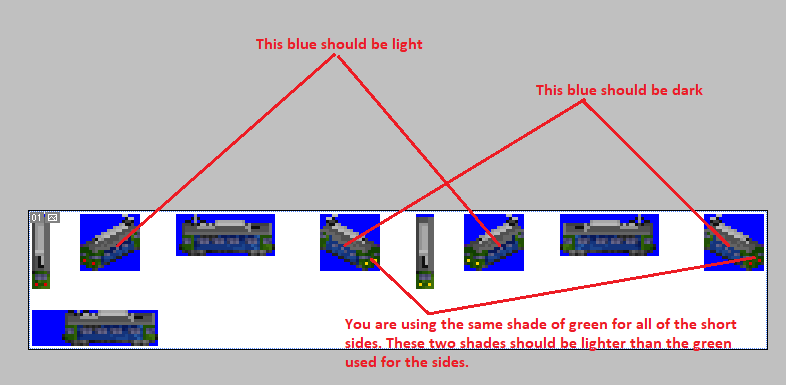 Example434.png [ 16.28 KiB | Viewed 696 times ]
Ill try to explain

The sun is in a fixed position, to keep it simple, its on the right.
So, that means when you start out with graphic nr2, the long side is facing the sun and the short side is facing the shadow.
So, colors used for the long side should be lighter than colors used for the short side.
When you flip your image, to get the other direction, you also have to change the shading!
So, then the long side is in the shadow and the short side is facing the sun.
Keep this also in mind for curved roofs!! (flat roofs can usually keep the same shading, no matter what direction of the vehicle)
EDIT:
By the way, to make it even better looking, you should also keep in mind where the details are placed on the roof.
So in this case the connection to the powerlines is at the front of the train (so at the side where the yellow lights are).
Make sure they stay there, as it is a bit odd that when a train for example runs in a circle, that the details swap from side to side

EDIT-2:
To illustrate what I mean:
Attachment: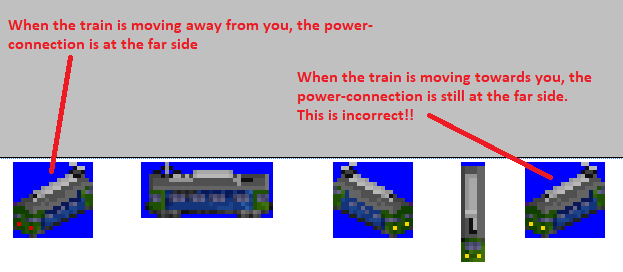 Example435.png [ 13.56 KiB | Viewed 688 times ]
By the way, this is why I stick to stations and objects, those dont move...

_________________
Projects: viewtopic.php?f=26&t=57266
Screenshots: viewtopic.php?f=47&t=56959
Winner of the following screenshot competitions:
sep 2012
,
jan 2013
,
apr 2013
,
aug 2013
,
mar 2014
,
mar 2016
All my work is released under GPL-license (either V2 or V3), if not clearly stated otherwise.