Quote:
I think these bricks look better.
Yep, they do!

Quote:
Still undecided about the railings previous did look clearer
Yeah, they need some tinkering.
In previous versions the rail was pink and that really showed off the shape of the building, especially this:
Attachment: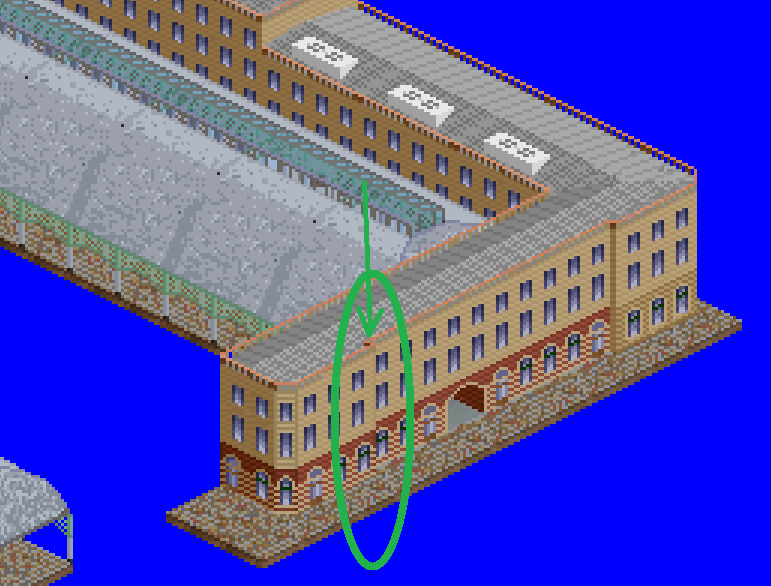 Example538.png [ 63.63 KiB | Viewed 384 times ]
Oops, pressed submit a bit too quick, wasnt finished with my post just yet

EDIT:
So to continue, those pink lines may not be the color you eventually want, but it may be a good startingpoint on redefining the railings.
Add it as a separate layer and tinker about with it a bit.
Quote:
If I can narrow the tower even just 2 pixels I think will look better.
Yeah, I think so too.
But what is the issue with the doors on groundlevel?
If I look at Google-earth I can only see that there is one door straight under the tower, the main entrance is next to it, so a narrower tower should work, or is there another issue?
Finally (Just in case you may notice that when looking at it in reallife), by looking at satellite images, I think that on the main entrance (the longest part so to say, that is against the domes) the brickwork may be whitewashed, to be honest, I don think that you should replicate that, I think this brown brickwork looks a lot better

_________________
Projects: viewtopic.php?f=26&t=57266
Screenshots: viewtopic.php?f=47&t=56959
Winner of the following screenshot competitions:
sep 2012
,
jan 2013
,
apr 2013
,
aug 2013
,
mar 2014
,
mar 2016
All my work is released under GPL-license (either V2 or V3), if not clearly stated otherwise.