Continue.
Steam trains need to take on coal .. so also made a Coal Stage.
It works like a Island Platform and comes in sections so can make it as long as you like.
Attachment: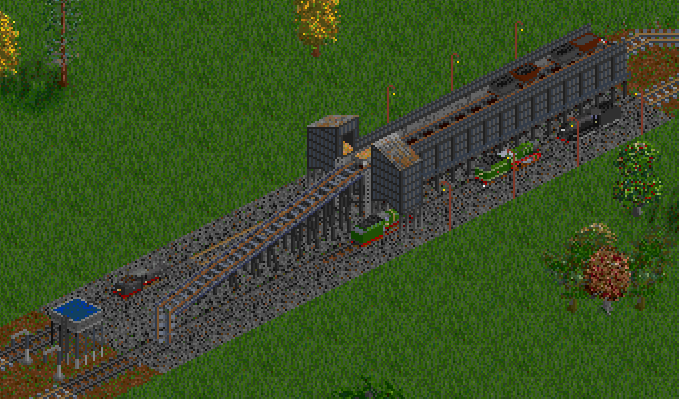 CoalStage3.png [ 73.72 KiB | Viewed 2136 times ]
Unfortunately I don't know how to make trains actually go up on top of the stage, so I put some fake hopper wagons on top. The building at top of ramp are sand hoppers. Trains use sand to help grip when tracks are slippery or steep.
You will also find some Locomotive sheds. Can send a train to these, but they do not service your train. These shed in this set there for the novelty and can be used with my AuzTrack set that I working on.
In the other Freight set called "AuzFreightStations" you will find Goods sheds, platforms, loading banks, gantry and jib cranes and some other pieces to go with a freight depot.
You will also find a Mining set.
Attachment:
Conveyors Underground.png [ 117.95 KiB | Viewed 2136 times ]
It has conveyor belts loading bins and a host of other items to transport your coal, Iron Ore and other minerals from the Mines to where you build your stations. Each piece is either a platform or a non-track station tile so you can build your station a long distance from the mines.
There is also a Livestock section and these livestock pens are cargo aware.
There are also some platform and non-track stations called Wheat Bags .. these are cargo aware and this is how wheat was transported before invention of silos.
You will also find som gates across the railway lines .. these will open on approach of a train.
There are some buildings, cranes and wheat silos that was provided by ISA. I still got more of his stuff to add.
Hope all this information I written about the sets has helped.
My idea of all these projects I working on is to provide several ways to play OpenTTD.
You can play the game as before building your empire but not concerned how it looked as you is out to make money money and more money.
But I like a steady game and enjoy buildings things and making it look a bit more realistic. You can ask the Government for $20 million or more (all the workers at the Industries paying their taxes) so can just have fun and not worry about going broke. To collect these taxes just hold down the Ctrl + Alt + C and it will bring up a menu so you can ask for the Tax money that you don't have to pay back.
Those taxes also a noce way to learn to play the game for new comers and young kids.
Cheers all