Improvements to v2.1
-Further lighting improvements.
I don't think I'll ever get the lighting *exactly* the same as the default objects, but it's getting pretty close!
Improvements in v2:
- The graphics are much cleaner, and more fitting with the default graphics.
- Climbs hills at the correct angle.
- Prototypical engine sounds included.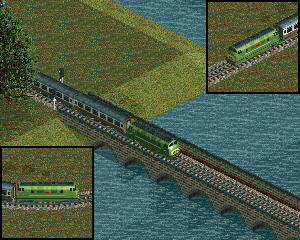 DOWNLOAD
Introduced: 1958
Obsolete: 1985
Power: 2000 hp
Speed: 90 mph
Weight: 78 tons
Reliability: 180% (90%x2)
The loco is configured as an "improved reliability" loco, with a lifespan of around 20 years. It will still work fine even if you don't have the improved reliability mod installed.