Long time forum lurker here, but have been having a lot of fun with my latest project to set up a comprehensive, semi-realistic representation of the UK rail network. I know I'm not the first to attempt this, and even after a quick glance across the screenshot section of the forum, I've already seen that others have been a lot more thorough in their research for this kind of project, but I thought I'd share what I've done so far in the hopes that my own take on the project might inspire others, and perhaps, to get a few ideas on ways to improve the network and maybe some recommendations for GRFs to add to game to make it look a bit better.
Just a few details about what I've been trying to do here first though.
My focus has been on:
i)
Connections
i.e. what connects to where, so position of junctions, layout of track, etc, have been completely simplified and based on what was practical on the map. When there is a possibility in real life to travel directly from station A to station B directly by train, I'm trying to ensure that you can do that in this game. In the scenario I'm using (I forget the source, but the creator did a pretty spot-on job) there are some small towns missing, and most of the time I've simply overlooked these for the sake of the keeping the system functional, though some I have added in when they were too important to leave out. Cities/towns that are too close together to have a viable in-game rail link have also at times been skipped over. Also, as some lines have a number of stations within the borders of large cities such as London and Birmingham, I decided that these simply would not have fit had I tried to include them all, and even if I had managed to fit them, they would quickly have brought the network to a standstill, which brings me to my next aim.
ii)
Functionality of the network
I'd been waiting some time for cargodist to be integrated into the main game, but good god are those passenger numbers difficult to manage. I didn't want the game to turn into what would essentially be a map of the real life network, I wanted it to actually work! I decided to get around that a few ways, such as having trams roughly representing the London Underground, and a few semi-hidden tram lines connecting the absurdly overloaded connections and supplementing the train connections (Warrington - Wigan is proving a particular pain at the moment). I have avoided creating any train route that doesn't actually exist, barring a few shortened services that would otherwise overload the system further down if allowed to continue.
iii)
Approximate representation of the actual routes and the trains that serve them
'Okay, I see East Midlands has a service from Norwich to Liverpool and it reverses at Sheffield; better see if I can make that a reality.'
This has been the trickiest part of the game to balance. With so many variations and extensions of the standard routes, I've decided to focus on those that make the most sense for the network. I'm trying to include all of the most regular services in areas where it would be otherwise overwhelming, and being a bit more vigilant in the more rural parts of the network where some stations would otherwise be completely overlooked.
iv)
Appropriate trains for respective routes
Tempting as it sometimes to shove Intercity 225s everywhere, I've tried to stick to trains that would, at the very least, approximately represent the type of train that actually operates on that specific service. The BR train set has been amazing for that, and I hope they continue to add to the pack, but it does mean I have an awful lot of Desiro 185s running around. Where possible I've tried to use the true liveries for trains serving specific routes, though this has only been possible on a handful of routes. Occasionally, due to the higher priority being on functionality, I've used faster trains than are used in reality (such as the Virgin route between Edinburgh and Euston)
Things I'm not concerned about
i)
Money/profitability
I don't think I've ever played OTTD for the business aspect, but rather to create impressive networks that work well. Little branch lines that make a huge negative on arrival (yes... there are a few 'delays' on some parts of the network still) are fine by me and they add an element of realism to the set-up, since not all routes are profitable.
ii)
Cheats
Local authorities? What local authorities?
I can't be wasting my time planting TREES when I could be planting trains! and I'm sure as hell not shifting the East Midland's main line 3 miles west to go around a giant factory.
iii)
Relative locations
Stations have been placed according to what is practical, even if it doesn't correspond to where the stations are in reality. The exception here being London, where I'm trying to put key terminus stations in their approximate relative locations, though when the stations constitute about half of the city itself, this is far from perfect.
I know some of my workarounds are probably going to feel a bit rough to some, but I'm very open to suggestions and ideas.
TL:DR - I'm making a UK network! In some ways it's pretty lame, but in other ways it seems pretty nice! Let me know what you think.
Starting off with my home town of Southend
c2c services to Fenchurch Street via Basildon or Grays, plus services going from Southend Victoria to Liverpool Street. May still add Shoeburyness in the future.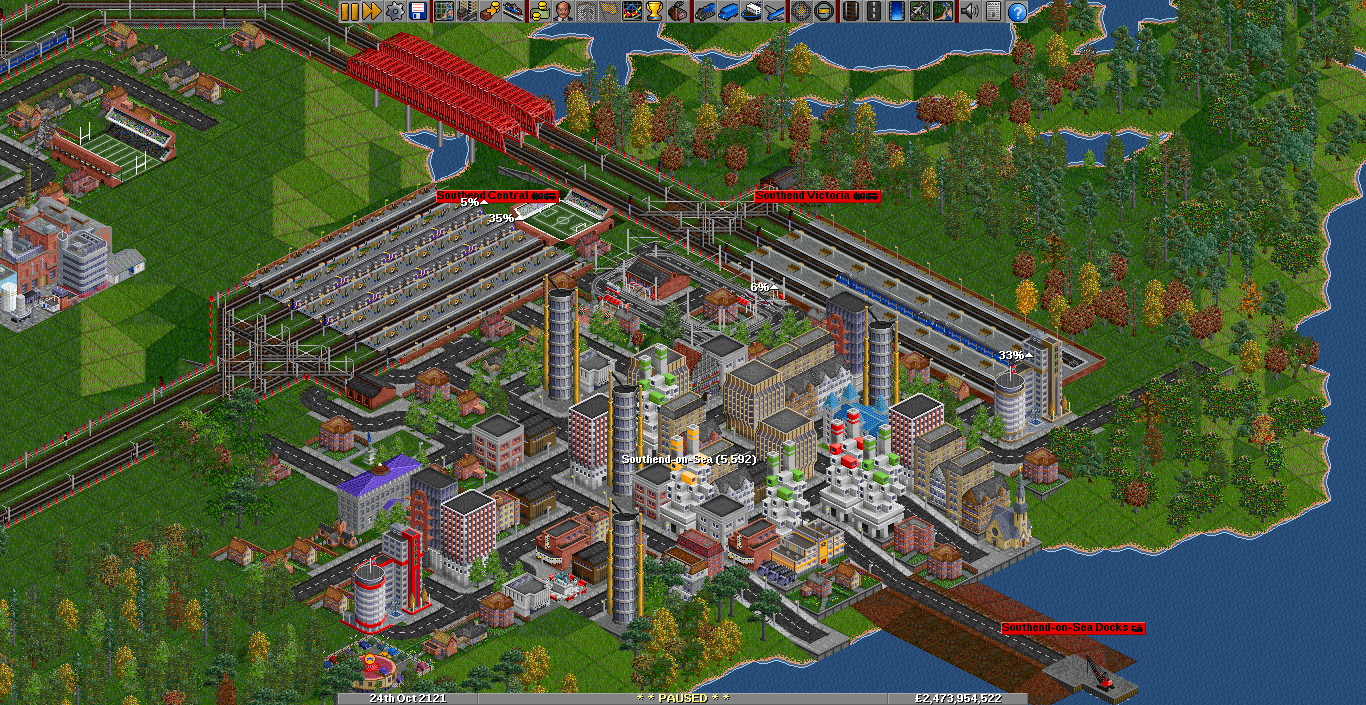 The line crossing the Fens to Ely
The main London stations. Still need to pretty up Euston and Liverpool Street a bit