robo wrote:
It may be enough to have two zoom levels, depending how large the maps turn out.
The map size is nearly unlimited. You can scroll nearly forever in any direction. (Terrain size: Integer.MAX_VALUE tiles x Integer.MAX_VALUE tiles) Thus I implemented three zoom levels. Here is a preview of the maximum zoom-out level:
Attachment:
three_zoom_levels.png [ 91.99 KiB | Viewed 5585 times ]
lukasz1985 wrote:
If you are not using shaders then you lose a whole world of possibilities. With shaders you could even emulate lighting with your graphics.
Really think about it. It's not much of a deal - you will spend maximally week refactoring your code.
Shaders are fantastic. And perhaps I will implement them later. But keep in mind that there are hundred (if not thousands) of light sources on the screen.
Attachment: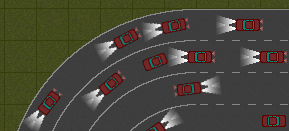 lights.png [ 43.66 KiB | Viewed 5585 times ]
Currently I use an offscreen light map where all light sprites are drawn to. This light map is applied to the drawn terrain + vehicles layer. It took several weeks to implement that feature. At the moment I don't see, why I should use the rare development time for implementing shaders for light effects, when are still no trains, planes, ships, buildings on the screen. But again. I know about the existence of shaders. And I will have them in mind during the further development process.
TinyMusic wrote:
2D means that there is only a view from the top, right?
In this context, yes. P1SIM has a top down view.
robo wrote:
Another interesting question is how you want to deal with landscape in a topdown game (you once said that you want to go first for topdown and later for isometric view).
The landscape is already finished. Just have a look at the following screenshot. And if P1SIM gets an isometric view in the future, its not very hard to use the very same landscape.
Attachment: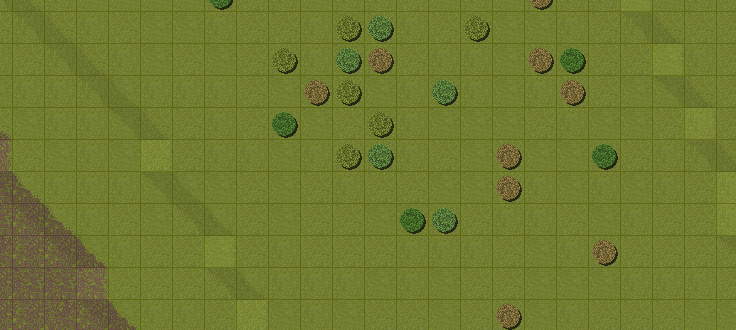 terrain.png [ 159.31 KiB | Viewed 5585 times ]