Changing the graphics...
Attachment: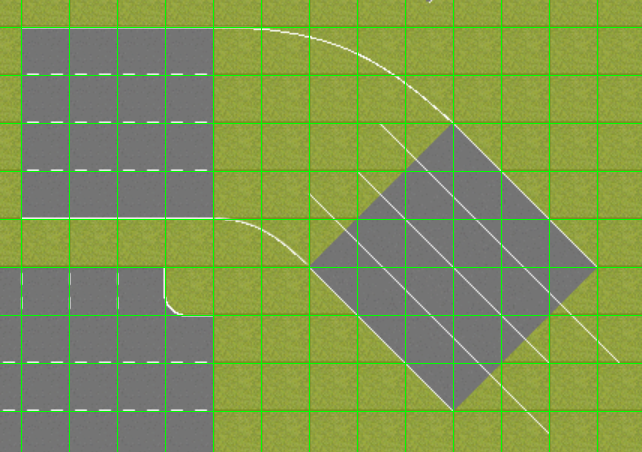 diag_concept.png [ 128.82 KiB | Viewed 3365 times ]
... so that diagonal lanes have a width of 1.06 and horizontal lanes a width of 1.00 ...
... and creating the modules with the in-game-module-editor leads to this in-game view:
Attachment:
diag_concept_in_game.png [ 172.88 KiB | Viewed 3365 times ]
As Loco has correctly stated, code changes were not necessary.
But since I dont want the cars to not-use the center line of the road I will adjust their positions. This needs some recoding, but the diagonal logistics nodes are only used for diagonal roads and tracks. Thus its totally acceptable to adjust their intra-tile-positions.
One problem left are diagonal single-lane roads - as well as single-lane tracks. They will have a small gap before other diagonal roads/tracks/etc. follow.
Attachment:
diag_single_lane.png [ 17.8 KiB | Viewed 3365 times ]