You want to implement trolleybus in future?
I think it will look very cool in you top-down view, without a mega-complexity, but it need to be coded in this stage of development, because very probably without a mod API it will not look cool, this feature needs code additions, not only sprites additions.
Why?
With the tools that you will provide, from what i supose, will only be possible to make new vehicle types that depends of a single track, in this case, the Trolleybus track (the wires) and the Trolleybus vehicle (the trolleybus), and the movement of the vehicle will fully depend of the tracks, but trolleybus is a different vehicle, unlike vehicles like trams that fully depends of the track, and buses that fully depends of the road, the Trolleybus depend of the road AND the wire. So, if you code a algorithm for the content creator that avaiables for the modder a vehicle that depends of two tracks, it will be very good.
If you not understand the needing of it in a Trolleybus, here a example:
The trolleybus is under the wire, the wire is in the track at right on the road, the road have 2 tracks. 4 tiles ahead, have a switch, and 5 tiles ahead have a junction like this: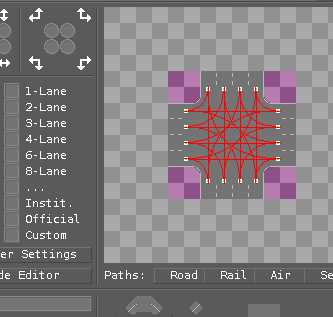 If the trolleybus only depends of the wire, I supose it will turn on the left blinker two tiles before the switch, and will turn to the left track AND the left wire at the same time, in the switch, what is unreal. beyond it, probably the movement of go to the left track of the road will be very strange, because the connection of the trolleybus with the wire is the trolley pole, and the trolleybus will not depend of the road, probably will be possible to the trolleybus run in the grass, if have a wire in that (what in real life is also possible but... buses also can run in the grass in the real life but in openttd it can't run in the grass...)...
If you implement what i said above, with the trolleybus depending of the road and the wire and in the same situation, the trolleybus will turn on the left blinker now (four tiles before the switch), will goes to the left track of the road, (and the trolley pole will be in a angle of something like 30º to right, connecting the bus with the wire), in the switch, the trolley pole will go with the wire to the left, and two tiles before the junction, the trolleybus will be under the wire again.
Understand why you need to think in that in this stage of development?
Congratulations by your game, I hope you have success with it, and good luck
And sorry by my rubbish english, I am danish but I live in Brazil since my 2 two years old.