Dear community,
I am exited to share my first NewGrf with you. Even though there are some awesome trainsets for german railway networks in TTD (DB Set XL, DACH Trains, etc.), I was always missing some special trains from the high-speed segment in Germany.
It seems like there is a
new modern DB Set under development
, but no release so far. The trains I was looking for are
class 411
and
class 415
EMUs. These trains are often used on lines which are upgraded for up to 230 km/h. Upgraded lines are usually not straight like new built high-speed lines, so classes 411 and 415 are able to tilt in the curve to keep as much speed as possible on curvy lines.
Since there seems to be any released NewGrf of these EMUs out there, I decided to create them on my own. So here is what I came up with:

You can find the NewGrf file at the end of the post. Available languages are English and German.
Information for gameplay:
- You can use these EMUs in multi-traction operation. It is possible to connect 2 CL411, 1 CL411 + 1 CL415, or up to 3 CL415.
- All engine parameters, etc. are very close to the real model.
- Parameters like loading speed, purchase costs, running costs (base) are oriented to the DB Set XL.
- Running costs will drop a little bit per EMU in multi-traction operation, since there is only 1 train driver needed for the entire consist.
- Graphics will glitch as soon as you put one of the EMUs into a consist that is not leaded by a CL411/415. Didn't figure out how to solve this. Which means: CL411/415 never go with another train...

Information about the NewGrf:
As I mentioned before this is my first NewGrf, so I had to learn a lot about creating them.
Special thanks goes to the people writing the NML tutorial, but also to all the people asking questions and all the people answering these questions here. All of that helped a lot to understand how to code in NML and draw (or edit) sprites. Thank you all very much!!
It was my claim to make the EMUs as realistic as possible. Let me explain a few aspects:
Push-pull train
Since the trains are not totally symmetric I had to make them push-pull. The biggest challenge was to make that work not only for a single EMU, but for the consist of two or three and the special combination of a 5 car EMU operation together with a 7 car EMU. But I finally managed to organise the sprites in correct order for every possible consist of CL411 and CL415 EMUs.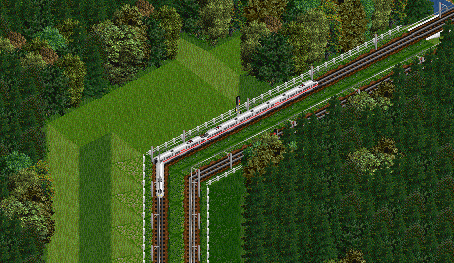 Multi-traction of CL415 and CL411 reversing.
Carriage line-up
The carriage line-up changes every time the train stops and "turns" for example in terminus stations. The carriages from the back will be at the front of the train. But if the EMUs operate in multi-traction it is possible, and gives you more graphic variablitlity, that one of the EMUs in the consist is turned as a whole. To enable this, the carriage line-up of each EMU can be changed from depot as an "initial-line-up". You can do this by changing the cargo subtype. Notice that the leading EMU decides for all other EMUs in the consist how they are lined-up.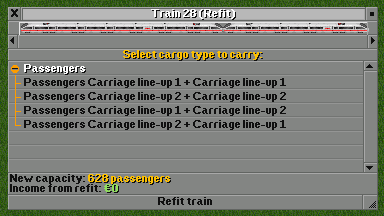 Refit GUI with 4 different options, since there are 4 possible combinations for the line-up of the whole consist.
The refit option for a single EMU lets you choose between 2 options and the triple multi-traction from CL415 EMUs offers you 8 possible line-ups for the entire consist. That is a total of 28 different "views" you are able to create with this NewGrf. But of course this is only for eyecandy reasons and has no impact on the game mechanics. So if you do not care about eyecandy, do not use that option.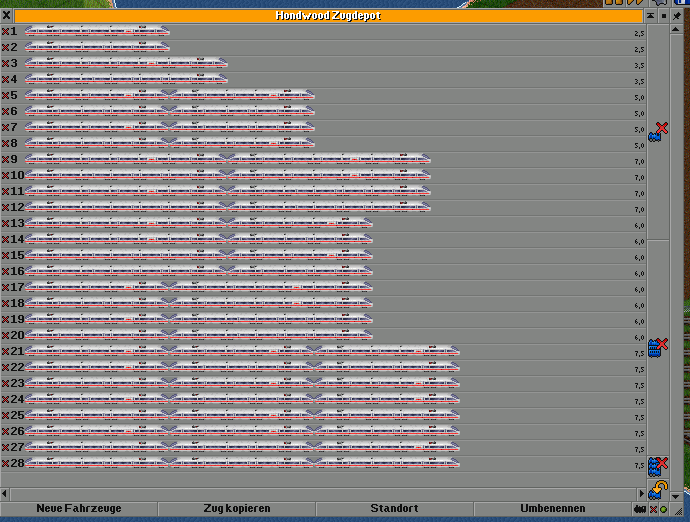 All 28 possible line-ups. (Graphics are from an earlier stage in development, windows are now more black than blue)

Pantographs
Each EMU has two pantographs. To be honest, I have no idea who decides on which factors, which one to use and when. This is again only for eyecandy, but here is how it works in my NewGrf:
A single EMU always uses the pantograph in direction of travel while leaving the depot. From this moment on it does not matter if the EMU has turned or not, it will always use the pantograph that was first up.
Two EMUs that operate in multi-traction will always use the outer pantographs.
Three EMUs behave like a combination of two EMUs in multi-traction which are the outer EMUs in the consist and a single EMU which is the EMU in the middle of the triple-traction.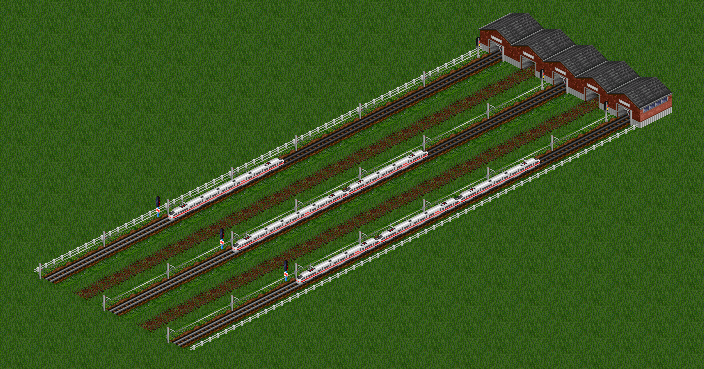 Different (multi-traction) EMUs reversing to show how the pantographs work.
Dining cars
Class 411 and class 415 look pretty much the same, except the fact that class 411 has 2 additional cars. If you take a closer look to the real EMUs, you will notice that the dining cars are not the same. Since I tried to make it as realistic as possible I also considered this detail. So all doors along the entire train should be at the right place right now.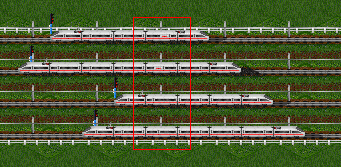 The dining cars of class 411 and class 415 are outlined.
Headlights
In the animated images above you could already see that the headlights switch between yellow and red. In case of multi-traction operations the inner headlights facing each other are turned off.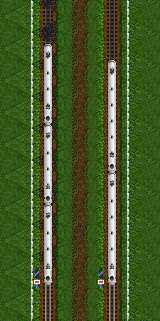 Different multi-traction EMUs reversing to show how the headlights work.
Credits:
Most players who have already played with the DB Set XL will have noticed that the graphics have a high similarity. This has been done deliberately to ensure that my ICE T looks good together with trains from the DB Set XL. Of course, this is not a replacement but an extension. Most parts for my sprites are from the ICE TD (Diesel) from the DB Set XL, this is why all
credits for the graphics
go to Michael Blunck and his incredible
DB Set XL
.

Comparison ICE TD from the DB Set XL and class 411/415 EMUs.
The
credits for coding
go to the people creating the
NML Tutorial for the three part articulated train
. Even though there is not much left of the original template, this one has helped extremly.
For people thinking about creating their own detailed-multi-traction-push-pull trains here is the
NML code
I ended up with:
Here are some
impressions
of class 411 and class 415 from a savegame:
I hope you enjoy the DB ICE T (CL411/CL415). If you find bugs or have some suggestions for an even more realistic version 2 of these EMUs, please leave a comment here in the thread.
Best regards from Leipzig
Christopher