Andrew350 wrote:
STD wrote:
In addition I would like to see the dirt roads as in the North American Road Set.
In it, they were up to the 1950s, and then asphalt road. If you put in will be just fine .
And best of all bear the dirt roads as a separate type of roads . The dream of a long-standing simple.
I'm sorry STD, but I was never planning on putting dirt roads into the set. I would do it if there were proper roadtypes, but that isn't going to happen, at least not for a while. So for now, it will have to stay a dream, unfortunately.
Nite Owl wrote:
The only thing I need to rethink now is the overly useful parking spaces from the Canadian Station Set which only match the North American Road Set.

Hmmm - what to do?
I'm not sure if you're actually suggesting something like this or just musing out loud.

Either way, it's not something I'm going to add to the main set. I still have the idea in the back of my head about doing some kind of add-on with objects and other miscellaneous stuff, but no plans for actually doing it myself anytime in the near future.
Well, why not parking lots in general as an object? They would not only be handy for train stations, but perhaps for larger bus terminals as well. Airports obviously could also use them as well.
For what it is worth, there is a GRF that removes the roofs and walls from truck/bus stations and looks like a parking lot. That GRF plays nicely with this set.
Attachment:
File comment: ARRS bus station without roofs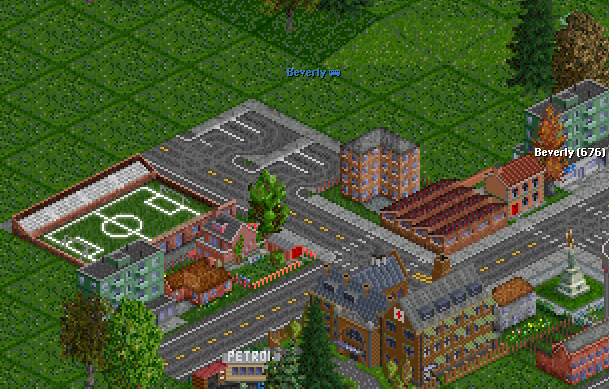 arrs lots.png [ 37.44 KiB | Viewed 3390 times ]
The peninsulas of sidewalks is OK, as it provides a "safety zone" to walk to one's bus. I think the CTA has some terminals somewhat like this.