Hi Zuu,
the AI works a different now. See the settings here: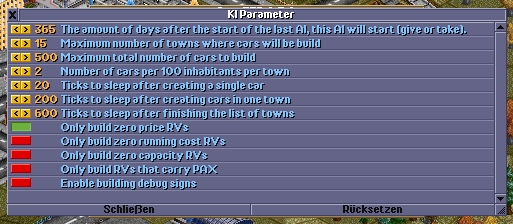 In the first phase the AI will select the 15 most populated towns from the game and will build a depot there. The relation between town_id and depot_tile will be stored into an AIList.
Then comes phase two, see the AI-Log here:
The program enters an endless loop in which the list of towns, selected in phase one is processed and
[current population]/100 * [number of cars per 100 inhabitants per town]
are built in each town. After each car a configurable amount of time is slept, as well as after processing of each town and at the end of the loop.
Because this loop runs until the company runs out of money, crashed cars will be replaced in later phases of the game and if there are newer vehicle types available, the existing cars will be replaced with newe ones.
I save the list of town_ids and depot_tiles together with the game, because i don't know (yet!) how to recreate it after a game is loaded - and i wanted to test the load/save functions of the AI framework.

Here's an example of how it looks like (sorry for the german...)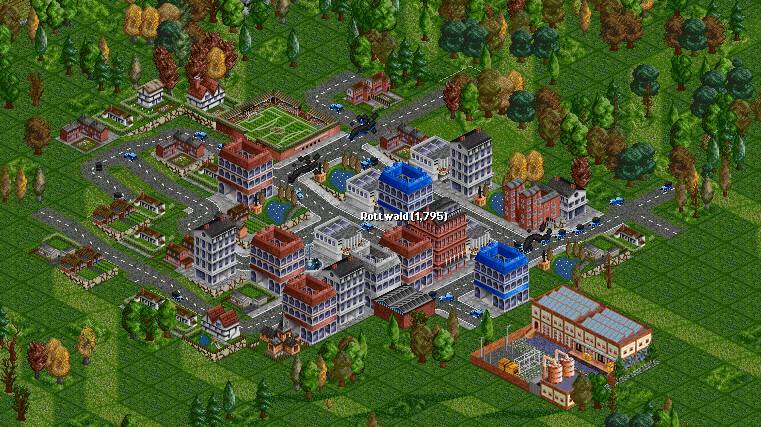 The depot in the center is the one owned by the AI.
Best regards from Texas, Frank/2
P.S. Currently i am using this AI to learn the API, maybe later this will end up in a new playing AI.
P.P.S Do you have a brief description of how i could build some random (bus-)stops in the towns to produce some money?
Zuu wrote:
I have not had time to test it, but it looks like you have done a decent work there!

You say you have implemented save/load, then I suggest you add the tag 'save/load' to BaNaNaS, so users know that you have done that. Even TownCars was marked with 'save/load', but with a note that it was only limited save/load support. (Ie don't go crazy and rebuild everything when the game is load again)